1814 10C Large Date XF45
Certification #20427404,
PCGS #4488
Expert Comments
Gordon Wrubel
The Large Date has an 8 that is LARGER than the adjacent 1s and extends ABOVE their tops. The Small Date variety has a smaller 8 that is about the SAME size as the adjacent 1s and is BELOW their tops. The Small Date is slightly scarcer than the Large Date but they are about equal in top condition.
---
Ron Guth
In terms of the number of Dimes that have been certified, the 1814 is the third most common date of the Capped Bust, Small Diameter type (the most common is the 1821 followed by the 1820). 1814 Dimes are found in three major varieties: Large Date, Small Date and STATESOF. Of those three, the Large Date is the most common by a significant margin. Most 1814 Large Date Dimes appear in the grades of MS-63 and MS-64. The finest examples certified by PCGS are a trio of MS-66s.
Diameter
19.00 millimeters
Metal
89.2% Silver, 10.8% Copper
Region
The United States of America
Price Guide
PCGS Population
Auctions - PCGS Graded
Auctions - NGC Graded
Rarity and Survival Estimates

Learn More
65 or Better
575
All Grades
125
60 or Better
5
65 or Better
R-5.8
All Grades
R-7.7
60 or Better
R-9.7
65 or Better
14 / 17 TIE
All Grades
14 / 17 TIE
60 or Better
10 / 17 TIE
65 or Better
20 / 35 TIE
All Grades
22 / 35 TIE
60 or Better
15 / 35 TIE
#1 MS66 PCGS grade

Douglas C. Kaselitz Collection - Stack's/Bowers 7/2015:5120, $58,750
#1 MS66 PCGS grade
#1 MS66 PCGS grade
#1 MS66 estimated grade

Greenhill Collection - Goldbergs 9/2006:1475, $27,600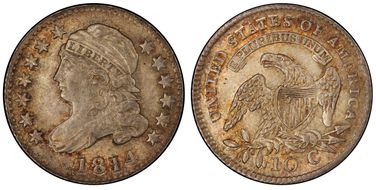 #5 MS65+ PCGS grade