Expert Comments
Ron Guth
The 1814/3 Overdate Half Dollar is a very popular issue and has been a significant part of the Bust Half Dollar series for decades. The overdate is very clear, consisting of the top bar of the 3 beneath the 4. This was done to save money by repurposing an old die instead of casting it aside and creeating a whole new one in the following year.
The 1814/3 Half Dollar comes in one variety with two distinct die states (O-101 and O-101a). There is no such thing as a perfect die 1814/3 Half Dollar, as they all show some degree of die-cracking and clashing. On the O-101a, the cracking becomes more evident and affects the bottom of the date. On the reverse, the die begins to take on a dished appearance and the denticles begin to merge with the tops of the letters of the legends.
There are at least a dozen Mint State examples of the 1814/3 Half Dollar. Most are them grade MS64 or lower. The finest example is a single NGC MS66 that sold for $48,875 in a 2010 auction.
Edge
Lettered: FIFTY CENTS OR HALF A DOLLAR
Diameter
32.50 millimeters
Metal
89.2% Silver, 10.8% Copper
Region
The United States of America
Price Guide
PCGS Population
Auctions - PCGS Graded
Auctions - NGC Graded
Rarity and Survival Estimates

Learn More
65 or Better
1000
All Grades
20
60 or Better
3
65 or Better
R-5.0
All Grades
R-9.1
60 or Better
R-9.8
65 or Better
24 / 72 TIE
All Grades
15 / 72 TIE
60 or Better
19 / 72 TIE
65 or Better
25 / 78 TIE
All Grades
16 / 78 TIE
60 or Better
20 / 78 TIE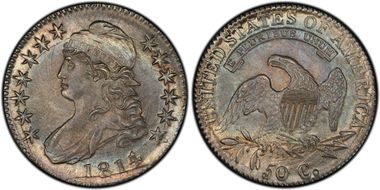 #1 MS65 PCGS grade
#1 MS65 estimated grade

Heritage 7/2009:1115, $29,900 - Stack's 6/2010:478, $48,875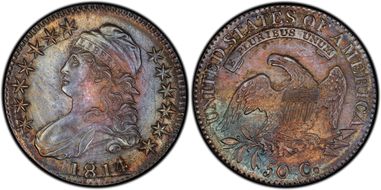 #3 MS64+ PCGS grade

Alpine Numismatics (David Olmstead) fixed price list of 5/2008 - Heritage 7/2008:1677 - Richard Burdick (as agent?) - D. Brent Pogue Collection - Stack's/Bowers & Sotheby's 9/2015:2017, $32,900 - "Chicago" Collection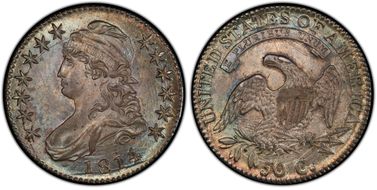 #3 MS64+ PCGS grade
#4 MS64 PCGS grade