1818 1C, BN F15BN
Certification #38961607,
PCGS #1600
Expert Comments
Ron Guth
The 1818 Large Cent is the second most common date of the Matron Head Cents based on the populations of those certified by PCGS. It is easily the most common date in Mint State thanks to the Randall Hoard, from which most of these coins originate. The hoard of thousands of Cents dated from 1816-1820 was named after John Randall, a Georgia merchant who claimed to have found the coins after the Civil War, buried in the ground. The hoard was disseminated by Edward Cogan, a dealer of some renown, who later had to defend the Randall Hoard coins against accusations that they were restrikes. Apparently, dealers and collectors could not believe that full red Large Cents could have survived in such large quantities.
Today, most Uncirculated 1818 Large Cents are of the Brown designation. Less than a fourth of the examples certified by PCGS have earned the Red-Brown designation. Those that are full Red are very rare.
Diameter
28.00 millimeters
Region
The United States of America
Price Guide
PCGS Population
Auctions - PCGS Graded
Auctions - NGC Graded
Rarity and Survival Estimates

Learn More
65 or Better
10000
All Grades
4000
60 or Better
50
65 or Better
R-3.0
All Grades
R-4.2
60 or Better
R-8.5
65 or Better
46 / 48 TIE
All Grades
46 / 48
60 or Better
30 / 48 TIE
65 or Better
77 / 81 TIE
All Grades
79 / 81
60 or Better
48 / 81 TIE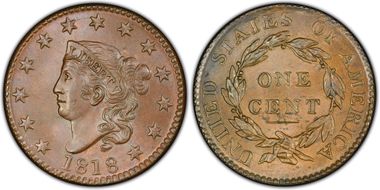 #1 MS66BN PCGS grade

Ray Gallo Collection - Abner Kreisberg, sold privately in 11/1960 - R.E. "Ted" Naftzger, Jr. Collection - Goldbergs 2/2009:66, $1,955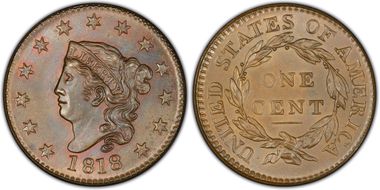 #1 MS66BN PCGS grade

Barney Bluestone 5/1943:1706 - Willard Blaisdell Collection (via Del Bland) - R.E. "Ted" Naftzger, Jr. Collection - Goldbergs 2/2009:52, $3,910
#1 MS66BN PCGS grade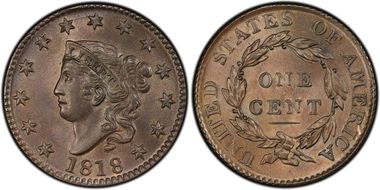 #4 MS65BN PCGS grade

Tom Reynolds, sold privately in 7/1995 - Twin Leaf Collection (W.M. "Jack" Wadlington) - Stack's/Bowers 7/2015:2046, $5,288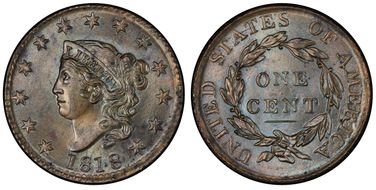 #4 MS65BN PCGS grade

Heritage 8/2016:3078, $1,998