1819/8 50C Large 9 VF25
Certification #12064854,
PCGS #6119
Expert Comments
Ron Guth
1819 Half Dollars can be found with a so-called normal date or as an 1819/8 overdate. The overdate varieties come in two distinct types: Small 9 and Large 9. In reality, the size difference is very slight. Actually, it is easier to tell the two types apart by the overdate itself. On the Small 9, the overdate is very clear and there are enough remnants of the underlying 8 to make an "eyeball" attribution. On the Large 9, the overdate is much less distinct and it appears primarily as a joining of the lower loop and the ball of the 9.
Five different die varieties comprise the Large 9 overdate (plus two recognized die states). Three of the varieties are common, one is rare, and the two die states are very scarce to very rare, thus it is worth going through the process of identifying the dies.
The Condition Census for the Large 9 Overdate runs from MS64 to MS66.
Edge
Lettered: FIFTY CENTS OR HALF A DOLLAR
Diameter
32.50 millimeters
Metal
89.2% Silver, 10.8% Copper
Region
The United States of America
Price Guide
PCGS Population
Auctions - PCGS Graded
Auctions - NGC Graded
Rarity and Survival Estimates

Learn More
65 or Better
1200
All Grades
35
60 or Better
6
65 or Better
R-4.9
All Grades
R-8.8
60 or Better
R-9.7
65 or Better
34 / 72 TIE
All Grades
27 / 72 TIE
60 or Better
30 / 72 TIE
65 or Better
36 / 78 TIE
All Grades
28 / 78 TIE
60 or Better
31 / 78 TIE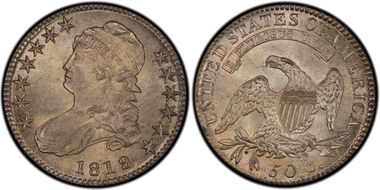 #1 MS66 PCGS grade

Jascha Heifetz Collection - Superior 10/1989:665, $24,200 - Heritage 5/2008:529, $28,750 - Richard Burdick, sold privately in 7/2008 - D. Brent Pogue Collection - Stack's/Bowers & Sotheby's 9/2015:2030, $41,125 - Dr. Charles Link Collection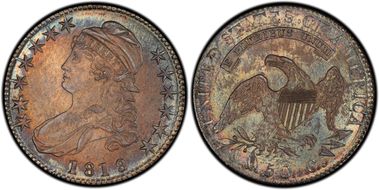 #1 MS66 PCGS grade

Stuart Levine, sold privately at the Long Beach Coin and Currency Exposition in 2/2000 - D. Brent Pogue Collection - Stack's/Bowers & Sotheby's 9/2015:2031, $41,125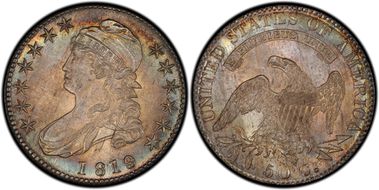 #3 MS65+ PCGS grade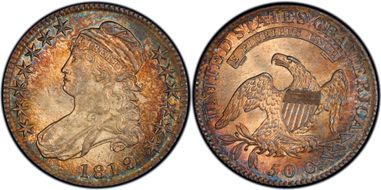 #4 MS65 PCGS grade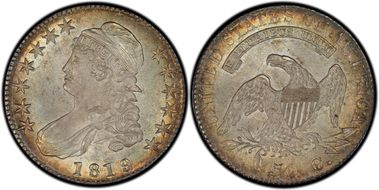 #4 MS65 PCGS grade