1821 25C VF20
Certification #31944761,
PCGS #5331
Expert Comments
Ron Guth
The 1821 Quarter has one of the larger mintages of the series, though there is a possibility that some of that mintage belongs to 1820. Even so, the 1821 Quarter is fairly plentiful in most grades and can be found in Mint State with relative ease. There are quite a few, very nice 1821 Quarters. When compiling the PCGS CoinFacts Condition Census, we found at least a dozen MS65 and better examples. Most are attractively toned and some are prooflike (John Jay Pittman bought his 1821 Quarter as a Proof -- it is now in a PCGS MS65 holder). The strike on 1821 Quarters is also better than in the previous year, which is a plus for type collectors.
For those that follow quality, the best 1821 Quarter is a PCGS MS67 that last appeared on the market in 2002 when it set a record price (for the date) of $66,125.
Diameter
27.50 millimeters
Metal
89.2% Silver, 10.8% Copper
Region
The United States of America
Price Guide
PCGS Population
Auctions - PCGS Graded
Auctions - NGC Graded
Rarity and Survival Estimates

Learn More
65 or Better
2400
All Grades
62
60 or Better
16
65 or Better
R-4.5
All Grades
R-8.3
60 or Better
R-9.3
65 or Better
14 / 15
All Grades
12 / 15 TIE
60 or Better
10 / 15 TIE
65 or Better
17 / 24 TIE
All Grades
16 / 24 TIE
60 or Better
18 / 24 TIE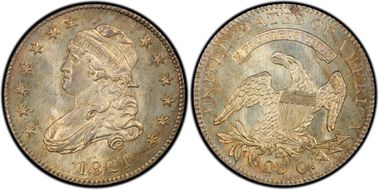 #1 MS67 PCGS grade

Heritage 2/1999:5899, $51,750 - Beverly Hills Collection - Superior 8/2002:1627, $66,125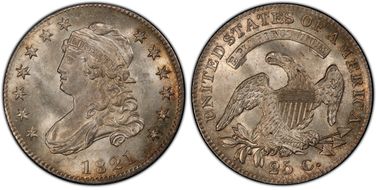 #2 MS66 PCGS grade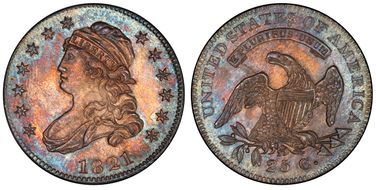 #2 MS66 PCGS grade

Heritage 1/2006:3149, $43,125 - Heritage 1/2012:3176, $40,250 - Kagin's
#2 MS66 PCGS grade

Bowers & Merena 7/2002:185, $20,700 - Heritage 12/2005:588, $25,300
#2 MS66 PCGS grade