1827 50C Square Base 2 VF20
Certification #81175236,
PCGS #6144
Expert Comments
Ron Guth
1827 Half Dollars have the third highest mintage of the entire series, exceeded only by 1834 and 1836. However, they also contain some interesting varieties, including a 7 over 6 overdate and 2's which feature either a curled base or a flat base. The Square Base 2 is the most common of the major varieties, by a significant margin. This variety is common in all grades and can be found in Mint State with relative ease. The most common Mint State grades is MS-63, followed by MS-62, then MS-64. Gems are scarce and anything finer than MS-65 is very rare. According to the PCGS Population Report (as of June 2011), the finest 1827 Square Base 2 Half Dollar is a single MS67.
Edge
Lettered: FIFTY CENTS OR HALF A DOLLAR
Diameter
32.50 millimeters
Metal
89.2% Silver, 10.8% Copper
Region
The United States of America
Price Guide
PCGS Population
Auctions - PCGS Graded
Auctions - NGC Graded
Rarity and Survival Estimates

Learn More
65 or Better
10000
All Grades
600
60 or Better
30
65 or Better
R-3.0
All Grades
R-5.8
60 or Better
R-8.9
65 or Better
69 / 72 TIE
All Grades
64 / 72 TIE
60 or Better
58 / 72
65 or Better
75 / 78 TIE
All Grades
69 / 78 TIE
60 or Better
62 / 78
#1 MS67 PCGS grade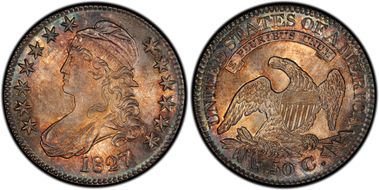 #2 MS66 PCGS grade

Heritage 4/2006:676, $6,900 - Heritage 10/2006:1144, $18,400 - Madison Collection - Heritage 1/2008:2870, $32,200 - Larry Hanks - D. Brent Pogue Collection - Stack's/Bowers & Sotheby's 2/2016:3064, $29,375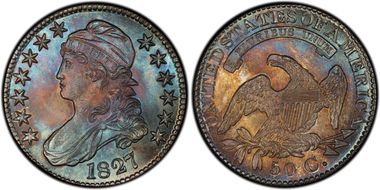 #2 MS66 PCGS grade

Bob R. Simpson Collection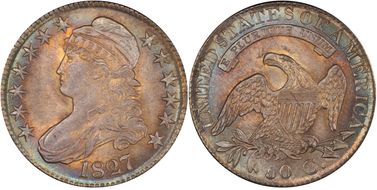 #2 MS66 PCGS grade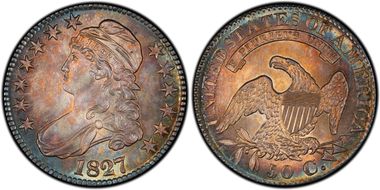 #2 MS66 PCGS grade

Heritage 8/2011:7153, $25,300 - Dr. Charles Link Collection