1829 10C Medium 10C XF40
Certification #18094129,
PCGS #84511
Owner's Comments
*CAC* JR-3, R4: Difficult variety
Expert Comments
Gordon Wrubel
The 1829 dime with the Medium 10C has an oval zero that is the same size as the adjacent 1.
---
Ron Guth
1829 Dimes are found with Curl Base 2's and Square (or Flat) Base 2's. A subset of the Square Base 2's is the "Medium 10C" variety. The Medium 10C is distinctly different from the Small 10C, the Large 10C, and the Extra Large 10C (use the attribution illustration for help in differentiating them). Two die varieties make up the Medium 10C subset: JR-11 and JR-12. Both are scarce, though the JR-12 is slightly less so.
The 1829 Medium 10C is fairly easy to obtain in Mint State. The PCGS Population Report shows approximately a dozen examples that are MS65 or better, plus sufficient supplies at the MS62 to MS64 levels. The finest example is a single PCGS MS67.
Diameter
18.50 millimeters
Metal
89.2% Silver, 10.8% Copper
Region
The United States of America
Price Guide
PCGS Population
Auctions - PCGS Graded
Auctions - NGC Graded
Rarity and Survival Estimates

Learn More
65 or Better
250
All Grades
50
60 or Better
12
65 or Better
R-6.6
All Grades
R-8.5
60 or Better
R-9.5
65 or Better
3 / 18 TIE
All Grades
6 / 18
60 or Better
6 / 18 TIE
65 or Better
11 / 35 TIE
All Grades
18 / 35
60 or Better
19 / 35 TIE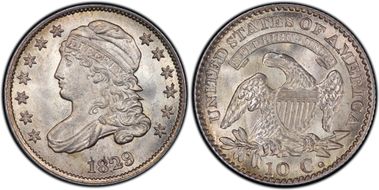 #1 MS67 PCGS grade
#1 MS67 PCGS grade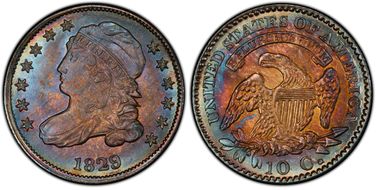 #3 MS66+ PCGS grade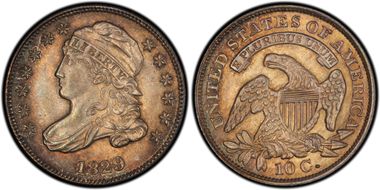 #4 MS66 PCGS grade

James Swan U.S. Type Collection - Steve Contursi - Oliver Jung Collection - American Numismatic Rarities 7/2004:36 - D. Brent Pogue Collection - Stack's/Bowers & Sotheby's 2/2016:3034, $18,212.50 - "Easton" Collection (PCGS Set Registry)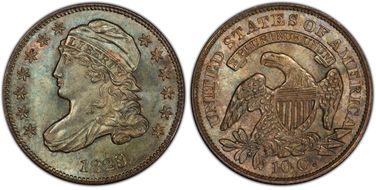 #4 MS66 PCGS grade