1829 H10C MS67
Certification #06666539,
PCGS #4276
Expert Comments
Ron Guth
Half Dime production resumed in 1829 (none were produced after 1805). The design was a smaller version of the Capped Bust design that had been utlized on Dimes since 1809). Utilizing the most up-to-date technology, the Capped Bust Half Dimes were all struck with a "close" collar, an edge die that created uniform diameters and square edges on the coins.
Over 1.2 million Half Dimes were produced in 1829, a phenomenal output in a series that had never seen a mintage above 87,000. Thus, the 1829 Half Dime is easy to find on circulated grades and in Mint State grades up to MS-64. Gem examples become scarce and MS-66 and better examples are quite rare. The finest examples certified by PCGS (as of July 2011) are two MS-67s.
Diameter
15.90 millimeters
Metal
89.2% Silver, 10.8% Copper
Region
The United States of America
Price Guide
PCGS Population
Auctions - PCGS Graded
Auctions - NGC Graded
Rarity and Survival Estimates

Learn More
65 or Better
2500
All Grades
600
60 or Better
60
65 or Better
R-4.5
All Grades
R-5.8
60 or Better
R-8.4
65 or Better
8 / 14 TIE
All Grades
8 / 14 TIE
60 or Better
7 / 14
65 or Better
8 / 14 TIE
All Grades
8 / 14 TIE
60 or Better
7 / 14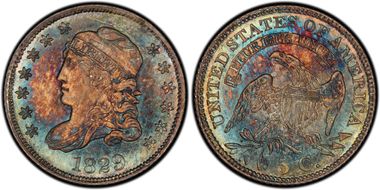 #1 MS67+ PCGS grade

Richard Burdick, sold privately in 1/2009 - D. Brent Pogue Collection - Stack's/Bowers & Sotheby's 5/2015:1018, $21,150
#2 MS67 PCGS grade

Heritage 2/2015:4375, $11,163 - Dr. Charles Link Collection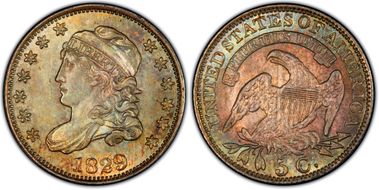 #2 MS67 PCGS grade

Bob R. Simpson Collection - Tom Bender Collection
#2 MS67 PCGS grade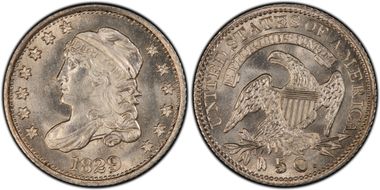 #5 MS66+ PCGS grade

Stack's/Bowers 8/2011:8211, $7,475 - Heritage 4/2014:4046, $7,638