1831 10C MS61
Certification #21743619,
PCGS #4520
Expert Comments
Ron Guth
The 1831 Dime has the third-largest mintage of any of the Small Diameter Dimes, making it a target for type collectors looking for good value. Mint State examples are plentiful, with MS63 being the most oft-seen grade. A small number of superb example exist, including a monster MS68 that was once part of the Pogue Family collection and which sold for a record $94,000 in 2016.
Included in the total mintage are six different die varieties. Fortunately, none of the varieties is particularly rare, making it possible to put together a complete set without too much difficulty.
Diameter
18.50 millimeters
Metal
89.2% Silver, 10.8% Copper
Region
The United States of America
Price Guide
PCGS Population
Auctions - PCGS Graded
Auctions - NGC Graded
Rarity and Survival Estimates

Learn More
65 or Better
1500
All Grades
250
60 or Better
25
65 or Better
R-4.8
All Grades
R-6.6
60 or Better
R-9.0
65 or Better
14 / 18 TIE
All Grades
14 / 18 TIE
60 or Better
14 / 18 TIE
65 or Better
31 / 35 TIE
All Grades
30 / 35 TIE
60 or Better
29 / 35 TIE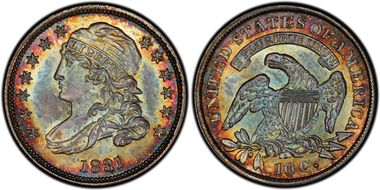 #1 MS68 PCGS grade

James W. Lull Collection - Bowers & Merena 1/2005:668, $37,950 - Richard Burdick, sold privately in 9/2006 - D. Brent Pogue Collection - Stack's/Bowers & Sotheby's 2/2016:3038, $94,000 - Dr. Charles Link Collection
#2 MS67+ PCGS grade
#3 MS67 PCGS grade
#3 MS67 PCGS grade
#3 MS67 PCGS grade