1838 25C Capped Bust XF40
Certification #38907193,
PCGS #5357
Expert Comments
By 1838, John Reich's Capped Bust design was nearing its end. Half Dimes and dimes had already transitioned to Christian Gobrecht's rendition of Thomas Sully's Liberty Seated design. And while half dollars would wait one more year, 1838 was the transitional year for quarters.
There is only one die pair known for 1838, mating a new obverse with a reverse used previously for the common 1837 B-2. Given the abnormally large mintage reported for this single die pair, it is likely that some of the Capped Bust Quarters included in the 1838 mintage were dated 1837.
Diameter
24.30 millimeters
Metal
90% Silver, 10% Copper
Region
The United States of America
Price Guide
PCGS Population
Auctions - PCGS Graded
Auctions - NGC Graded
Rarity and Survival Estimates

Learn More
65 or Better
1625
All Grades
67
60 or Better
7
65 or Better
R-4.7
All Grades
R-8.3
60 or Better
R-9.6
65 or Better
2 / 9
All Grades
5 / 9 TIE
60 or Better
6 / 9 TIE
65 or Better
13 / 24 TIE
All Grades
16 / 24 TIE
60 or Better
15 / 24 TIE
#1 MS66 estimated grade

Superior 9/1997:190 - Eugene H. Gardner Collection, Part II - Heritage 10/2014:98353, $55,813 - Heritage 9/2015:3860, $82,250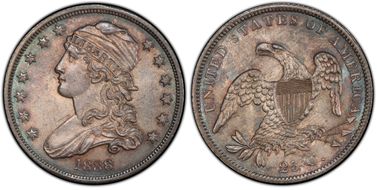 #1 MS66 PCGS grade

Bowers & Merena 7/2003:1155 - Heritage 2/2005:6528, $13,800 - Bowers & Merena 3/2006:650, $14,950 - Heritage 1/2009:3734, $28,750 - Heritage 5/2009:618, $18,400 - Joe O'Connor (OCNUMIS) - J. Clayton Shaw - Dr. Charles Link Collection
#2 MS66 PCGS grade
#4 MS65+ PCGS grade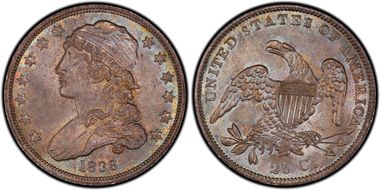 #5 MS65 PCGS grade

Stack's/Bowers 8/2012:11342, not sold