1843 25C MS64
Certification #82103878,
PCGS #5404
Expert Comments
Ron Guth
The 1843 Quarter Dollar is typical of most dates from the 1840's -- it is scarce, but not rare, and can be found in Uncirculated condition with patience and luck. None of the mintages of any of the Quarter Dollars from the 1840's exceeded a million coins, but the mintages were healthier than those of other decades (especially those of the 1860's and 1870's).
Mint State 1843 Quarter Dollars appear most often in MS-63. On either side of that grade (both lower and higher) the populations drop quickly. As of September 2011, PCGS reported 32 Mint State 1843 Quarter Dollars, the finest of which are two in MS-66.
Designer
Robert Ball Hughes/Christian Gobrecht
Diameter
24.30 millimeters
Metal
90% Silver, 10% Copper
Region
The United States of America
Price Guide
PCGS Population
Auctions - PCGS Graded
Auctions - NGC Graded
Rarity and Survival Estimates

Learn More
65 or Better
600
All Grades
60
60 or Better
3
65 or Better
R-5.8
All Grades
R-8.4
60 or Better
R-9.8
65 or Better
34 / 49 TIE
All Grades
31 / 49 TIE
60 or Better
8 / 49 TIE
65 or Better
62 / 114 TIE
All Grades
58 / 114 TIE
60 or Better
19 / 114 TIE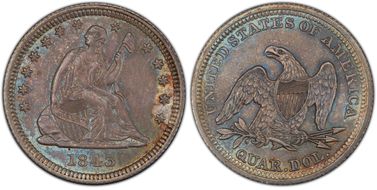 #1 MS65 PCGS grade

Doug Noblet Collection - Bowers & Merena 8/2001:131, $6,900 - Eugene H. Gardner Collection, Part III - Heritage 5/2015:98333, $4,935 - Stack's/Bowers 8/2015:354, $4,244 - Heritage 3/2016:4832, $4,113 - Heritage 7/2016:3819, $3,643 - D.L. Hansen Collection
#1 MS65 PCGS grade

Superior 9/2003:1567, $8,625 - Heritage 8/2004:4011, $4,888 - Heritage 2/2005:6535, $4,888 - Stack's/ANR 10/2005:5225, $6,440
#3 MS65 estimated grade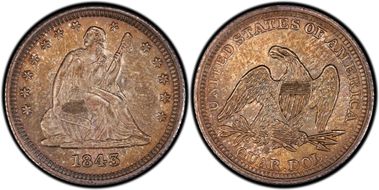 #4 MS64 PCGS grade
#4 MS64 PCGS grade