1844-O 25C AU58
Certification #42170074,
PCGS #5407
Expert Comments
Ron Guth
The 1844-O has a large mintage and is fairly plentiful in most grades. In terms of overall survivorship, the 1844-O mimics other O-Mint Quarters from the period. However, in Mint State, the 1844-O is definitely more plentiful than the 1842-O, 1843-O, and 1847-O, but it is not nearly as common as the 1841-O.
Most 1844-O Quarters are struck quite well for a New Orleans product. The typical examples grades MS63 or lower, and the best examples at the top end rate out at MS65.
Designer
Robert Ball Hughes/Christian Gobrecht
Diameter
24.30 millimeters
Metal
90% Silver, 10% Copper
Region
The United States of America
Price Guide
PCGS Population
Auctions - PCGS Graded
Auctions - NGC Graded
Rarity and Survival Estimates

Learn More
65 or Better
500
All Grades
35
60 or Better
3
65 or Better
R-6.0
All Grades
R-8.8
60 or Better
R-9.8
65 or Better
25 / 49 TIE
All Grades
20 / 49 TIE
60 or Better
8 / 49 TIE
65 or Better
49 / 114 TIE
All Grades
42 / 114 TIE
60 or Better
19 / 114 TIE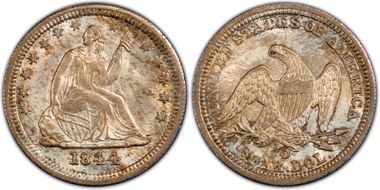 #1 MS65 PCGS grade
#1 MS65 PCGS grade

Jason Carter, sold privately in 3/2001 - Eugene H. Gardner Collection - Heritage 6/2014:30364, $12,925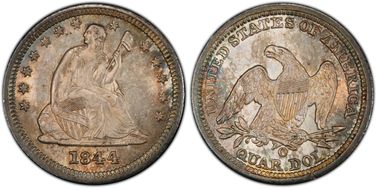 #1 MS65 PCGS grade

Stack's/Bowers 11/2015:22182, $6,463 - Heritage 1/2017:3919, $9,988 - D.L. Hansen Collection
#1 MS65 estimated grade

Walrath Collection - Numismatic Gallery 5/1948:475 - John Jay Pittman Collection, Part II - David Akers 5/1998:1311, $3,300 - Heritage 9/1998:6653 - Heritage 1/1999:6597, $5,865 - Heritage 10/1999:5230, $4,800 - Heritage 1/2000:6647, $6,900 - Heritage 1/2004:5739, $5,175 - American Numismatic Rarities 3/2005:1675, $6,440 - Heritage 7/2005:6006, $8,625 - Heritage 12/2015:3135, $6,463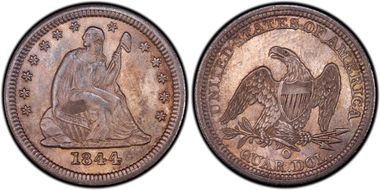 #5 MS64 PCGS grade

Goldbergs 6/2014:400, $5,052.50