1845 H10C MS61
Certification #24597931,
PCGS #4335
Expert Comments
Ron Guth
The 1845 Half Dime has the largest mintage of any date/mintmark combination from the 1840s, which translates into a common coin today. This date can be found readily in Mint State, where the most common grade is MS64. Gems are scarce and superb examples are semi-rare. Th best seen thus far is a single PCGS MS67+.
Most examples are struck quite well and the overall eye appeal for this date is excellent.
Designer
Robert Ball Hughes/Christian Gobrecht
Diameter
15.90 millimeters
Metal
90% Silver, 10% Copper
Region
The United States of America
Price Guide
PCGS Population
Auctions - PCGS Graded
Auctions - NGC Graded
Rarity and Survival Estimates

Learn More
65 or Better
850
All Grades
275
60 or Better
40
65 or Better
R-5.3
All Grades
R-6.5
60 or Better
R-8.7
65 or Better
30 / 36 TIE
All Grades
32 / 36 TIE
60 or Better
26 / 36 TIE
65 or Better
57 / 79 TIE
All Grades
60 / 79 TIE
60 or Better
53 / 79 TIE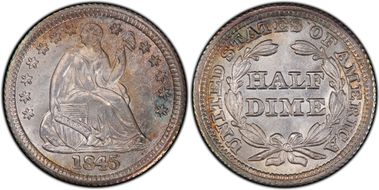 #1 MS67+ PCGS grade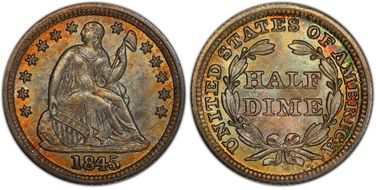 #2 MS67 PCGS grade

Bob R. Simpson Collection - Tom Bender Collection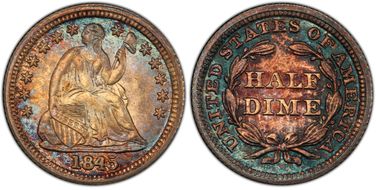 #2 MS67 PCGS grade

New York Connoisseur's Collection - American Numismatic Rarities 3/2006:501, $5,290 - Eugene H. Gardner Collection - Heritage 5/2015:98165, $3,995 - Heritage 9/2015:3367, $3,760 - Heritage 6/2016:4368, $3,055 - Heritage 1/2017:3736, $2,820 - D.L. Hansen Collection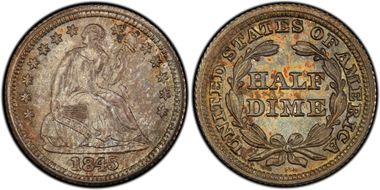 #2 MS67 PCGS grade

Bowers & Merena 7/2003:589 - Eugene H. Gardner Collection - Heritage 5/2015:98164, $4,347.50
#2 MS67 PCGS grade