1846-O $5 MS62
Certification #50176863,
PCGS #8230
Owner's Comments
This is either the second or third finest known of no more than five Uncirculated examples. Nicely toned with rich orange-gold colors over very frosty surfaces.
Expert Comments
David Akers (1975/88)
The 1846-O is comparable in overall rarity to the 1845-O and the two varieties of the 1843-O. It is far more rare than the relatively common 1844-O. Most known specimens grade no better than VF or EF, and I have seen only one uncirculated example. The date is underrated and undervalued in all grades, and is really just about as rare as the 1846-C, and certainly more rare, particularly in high grade, than the 1846-D.
---
Doug Winter
The 1846-O half eagle is a scarce and undervalued issue that is actually as rare—if not rarer—than the more heralded 1846-C and 1846-D issues. It is usually seen in VF and EF grades and even accurately graded EF45s are not seen with a great degree of frequency. The 1846-O is very scarce in AU and becomes rare in AU55 to AU58. In Uncirculated, this is a very rare coin with just four or five known.
STRIKE: The quality of strike seen on the 1846-O half eagle is slightly better than on other New Orleans half eagles of this era. Most examples are somewhat weak on the curls surrounding the face, while the radial lines in the stars are sharp. The reverse is generally a bit sharper than the obverse. The feathers of the eagle show good definition. There is sometimes weakness on the arrow feathers and the upper portion of the eagle's legs. I have seen a few that had a very weak E in LIBERTY. It is possible that his is the result of a clogged die.
SURFACES: As a rule, New Orleans half eagles from the 1840s are seen with very heavily marked surfaces, and the 1846-O is no exception. Virtually every known circulated piece shows numerous marks in the fields and some have detracting marks on the face of Liberty. It is still slightly easier to find an 1846-O with acceptable surfaces than it is an 1845-O.
Designer
Christian Gobrecht
Diameter
21.65 millimeters
Metal
90% Gold, 10% Copper
Region
The United States of America
Price Guide
PCGS Population
Auctions - PCGS Graded
Auctions - NGC Graded
Rarity and Survival Estimates

Learn More
65 or Better
90
All Grades
6
60 or Better
0
65 or Better
R-8.1
All Grades
R-9.7
60 or Better
R-10.1
65 or Better
29 / 112 TIE
All Grades
29 / 112 TIE
60 or Better
1 / 112
65 or Better
44 / 218 TIE
All Grades
54 / 218 TIE
60 or Better
1 / 218
#1 MS62 PCGS grade
#1 MS62 PCGS grade
#1 MS62 PCGS grade
#1 MS62 estimated grade

Louis E. Eliasberg, Sr. Collection - Bowers & Ruddy 10/1982:442, $2,200 - Edward Milas Collection - Stack's 5/1995:465, $19,800 - Ronald W. Brown Acadiana Collection - Heritage 8/1999:465, $16,100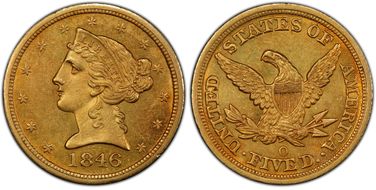 #5 MS61 PCGS grade

RARCOA "Auction '89" 7/1989:416 - A.J. Vanderbilt Collection - Stack's/Bowers 3/2018:10337, $14,400 - Stack's/Bowers 8/2018:1271, $14,400