1847 H10C MS65
Certification #38257374,
PCGS #4337
Expert Comments
Ron Guth
The 1847 Half Dime is relatively common but not nearly as common as the 1841, 1842, 1844, or 1845. Uncirculated examples are readily available, but usually on the low end of the Mint State scale (from MS62 to MS64). Superb examples are much harder to find. The top of the Condition Census contains a single PCGS MS67+ (illustrated above).
Fully struck examples with full denticles are scarce and definitiely not the norm.
Designer
Robert Ball Hughes/Christian Gobrecht
Diameter
15.90 millimeters
Metal
90% Silver, 10% Copper
Region
The United States of America
Price Guide
PCGS Population
Auctions - PCGS Graded
Auctions - NGC Graded
Rarity and Survival Estimates

Learn More
65 or Better
500
All Grades
250
60 or Better
40
65 or Better
R-6.0
All Grades
R-6.6
60 or Better
R-8.7
65 or Better
22 / 36
All Grades
28 / 36 TIE
60 or Better
26 / 36 TIE
65 or Better
43 / 79 TIE
All Grades
56 / 79 TIE
60 or Better
53 / 79 TIE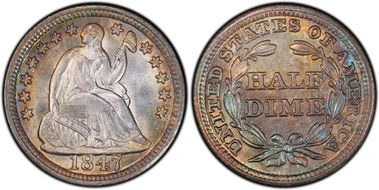 #1 MS67+ PCGS grade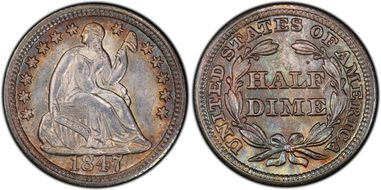 #2 MS67 PCGS grade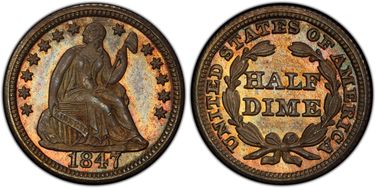 #2 MS67 PCGS grade
#2 MS67 PCGS grade

John G. Mills Collection - S.H. & Henry Chapman 4/1904:??? - John M. Clapp Collection - John H. Clapp Collection, sold intact in 1942 - Louis E. Eliasberg, Sr. Collection - Bowers & Merena 5/1996:967, $11,550 - Eugene H. Gardner Collection - Heritage 10/2014:98214, $38,187.50
#2 MS67 PCGS grade