1852-O $20 XF40
Certification #03459503,
PCGS #8907
Owner's Comments
A solid EF with some luster seen in the protected areas.
Expert Comments
Doug Winter
The following information is from my eBook on Type One Liberty Head Double Eagles at http://doubleeaglebook.com/
The 1852-O is the second most available double eagle from New Orleans in terms of overall rarity, and it is the most common in higher grades (About Uncirculated-55 and higher). It becomes scarce in properly graded About Uncirculated-55, and it is very scarce in About Uncirculated-58. It is very rare in Uncirculated and extremely rare in Mint State-62 and higher.
STRIKE: The quality of strike seen on the 1852-O varies. Some are found with good strikes with sharp definition on the hair and feathers. Many have weakness on the lower curls (particularly on the curl below the ear of Liberty) and the corresponding reverse. It is common to find examples of this date with noticeable beveling on the rims, both on the obverse and on the reverse.
SURFACES: Most 1852-O double eagles are very heavily abraded. A smaller number are seen with mint-made planchet chips or other minor planchet defects. Choice, clean examples are available but they are scarce and they generally bring a strong premium relative to "typical" quality coins.
LUSTER: The type of luster seen on this date tends to be a hybrid of frosty and satiny, and on higher grade coins it can be attractive. Some semi-prooflike or even fully prooflike coins are known. The luster on this issue tends to be better than that found on the 1851-O, and this makes the 1852-O a good choice for a New Orleans Type One type coin.
COLORATION: The natural coloration is medium to deep green-gold. On some examples the hue is more of a lighter yellow-gold. It has become hard to find an 1852-O double eagle with natural color as most have been dipped or processed. With patience, however, it should be possible to locate an above-average example.
EYE APPEAL: This date has better eye appeal than any other New Orleans double eagle but it is still below average when compared to Philadelphia issues of this type. There are some very attractive 1852-O double eagles in all grade ranges (Extremely Fine, About Uncirculated, and Uncirculated) but these have become hard to find. A CAC quality 1852-O generally commands a 20-30% premium over a typical example.
INTERESTING VARIETIES: There are minor positional varieties known but none are of interest to collectors.
PROOFS: No Proofs were struck this year.
HOARDS: A total of 17 were found in the S.S. Republic. Five examples were found in the S.S. Central America. Only two were reported to have been in the Baltimore Hoard.
BUYING TIPS: Every collection of Type One double eagles should have at least one really nice New Orleans issue, and the 1852-O is your best choice. Don't overbuy this date, but at the same time if you are offered a truly choice example with good color and clean surfaces don't be afraid to stretch for it. The level of demand for nice New Orleans double eagles should continue to be strong in the coming years.
AUCTION RECORD: The current auction record for this date was set by Heritage 1/11: 5243, graded MS65 by NGC, which sold for $276,000.
FINEST KNOWN: The clear finest-known for this date is the Henry Miller coin, graded MS65 by NGC, which was obtained privately from Stack's in the 1970's; it later brought $276,000 as Heritage 2011 FUN: 5243. The next best is an NGC MS63 from the Dallas Bank collection. There are four or five graded MS62. These include the Crawford coin (PCGS MS62) obtained from the Norweb sale, a PCGS MS62 which I sold to a New England collector which is ex Heritage 2006 ANA: 5580 ($48,815), and a PCGS MS62 which is ex Stacks Bowers 2014 ANA: 12005 ($94,000), ex Gilded Age collection, Bowers and Merena 5/00: 771 (Bass III), Harry Bass collection.
RARITY:
TOTAL KNOWN: 1000-1250+
BY GRADE:
Very Fine: 350-450
Extremely Fine: 400-500
About Uncirculated: 235-280
Uncirculated: 15-20
POPULATION FIGURES: As of the beginning of 2015, PCGS had graded four in MS60, three in MS61, and seven in MS62 for a total of 14 coins in Uncirculated. NGC had graded eight in MS60, one in MS60PL, nine in MS61, two in MS62, one in MS63, and one in MS65, as well as a single MS61 from the S.S. Republic for a combined total of 22 coins in Uncirculated. These figures are slightly inflated by resubmissions. CAC has approved only one coin in Uncirculated, an MS60.
PERFORMANCE SINCE 2002: In the current market, a Choice Extremely Fine 1852-O double eagle (equivalent to an EF45) sells for $4,500-5,500. Back in 2002, the same coin would have sold for $1,000-1,500. Today, a Choice About Uncirculated 1852-O (equivalent to an AU55) sells for $12,000 to $15,000. Back in 2002, the same coin would have sold for $3,500-4,500.
COMMENTS: Huge numbers of About Uncirculated have been graded by both services, especially by NGC. I think these numbers are way inflated by resubmissions, plus many of the AU50 and AU53 coins are no better than Extremely Fine in my opinion. The 1852-O remains the most available New Orleans double eagle in higher grades and, as a result, such coins are popular with both date and type collectors. It is becoming increasingly hard to find examples with choice, original surfaces but they are still out there and trade privately or at auction.
---
David Akers (1975/88)
The 1852-O is the second most common O-Mint Double Eagle after the 1851-O. However, it just might be the most common of the 13 O-Mint issues in full mint state. At least I have seen more uncs of this date than I have of any other, including the 1851-O, and it is also the case that the finest O-Mint $20 I have ever seen was an 1852-O, a real gem that is now in a prominent Dallas Bank collection. Still, true uncs of this date must neccessarily be considered rare and the quality one is most likely to find is VF or EF. As is the case with all the Type I O-Mint twenties, most 1852-O's are semi-prooflike or prooflike.
Designer
James Barton Longacre
Diameter
34.00 millimeters
Metal
90% Gold, 10% Copper
Region
The United States of America
Price Guide
PCGS Population
Auctions - PCGS Graded
Auctions - NGC Graded
Rarity and Survival Estimates

Learn More
65 or Better
1002
All Grades
13
60 or Better
0
65 or Better
R-4.9
All Grades
R-9.4
60 or Better
R-10.1
65 or Better
21 / 44 TIE
All Grades
13 / 44 TIE
60 or Better
1 / 44
65 or Better
40 / 148 TIE
All Grades
24 / 148 TIE
60 or Better
1 / 148
#1 MS64 estimated grade

Stack's, sold privately in the 1970s - Henry Miller Collection - Heritage 1/2011:5243, $276,000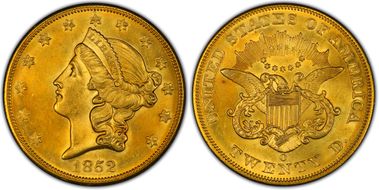 #2 MS62+ PCGS grade

AWA Collection - D.L. Hansen Collection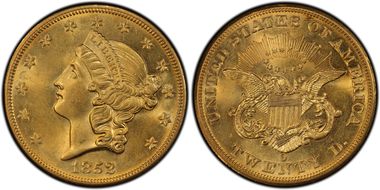 #3 MS62 PCGS grade

Cover coin (front and back) of U.S. Liberty Head $20 Double Eagles: The Gilded Age of Coinage

Paramount, sold privately on 7/16/1976 - Harry W. Bass, Jr. Collection, Part III - Bowers & Merena 5/2000:771, $21,850 - Douglas Winter - Gilded Age Collection - Stack's/Bowers 8/2014:12005, $94,000
#3 MS62 PCGS grade

New York Eye Appeal Collection - Heritage 8/2006:5580, $48,875
#3 MS62 PCGS grade