1853 25C Arrows and Rays N1
Certification #38907194,
PCGS #5426
Expert Comments
Ron Guth
Why were arrowheads and rays added to the 1853 Quarter Dollar? To signify a reduction in the weight of the coin. This was a time when silver coins were required to contain their full value in metal. Also, this was the first time that the silver content of the Quarter Dollar had been reduced since its inception in 1796! The result of the reduction in weight was that all of the silver quarter dollars struck prior to the weight change became worth more than their face value. Any quarter dollars without Arrows and Rays would be instantly noticeable in circulation and could be pulled and melted. The massive mintage of 1853 quarter dollars resulted from the conversion of older silver coins. For coin collectors, this means that mintage figures for all pre-1853 quarter dollars are meaningless and their respective survival rates are low.

Designer
Robert Ball Hughes/Christian Gobrecht
Diameter
24.30 millimeters
Metal
90% Silver, 10% Copper
Region
The United States of America
Price Guide
PCGS Population
Auctions - PCGS Graded
Auctions - NGC Graded
Rarity and Survival Estimates

Learn More
65 or Better
5000
All Grades
700
60 or Better
35
65 or Better
R-4.0
All Grades
R-5.6
60 or Better
R-8.8
65 or Better
3 / 3
All Grades
3 / 3
60 or Better
1 / 3
65 or Better
110 / 114 TIE
All Grades
104 / 114
60 or Better
63 / 114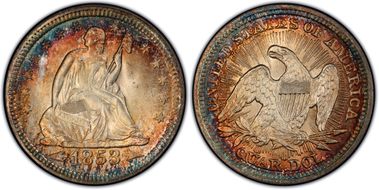 #1 MS67 PCGS grade

Bob R. Simpson Collection
#1 MS67 PCGS grade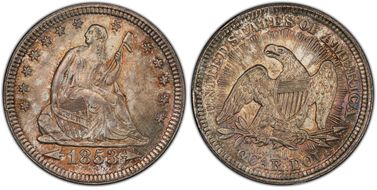 #3 MS66 PCGS grade

Superior 7/2005:1019, $32,200 - Eugene H. Gardner Collection, Part I - Heritage 6/2014:30371, $35,250 - Legend Rare Coin Auctions 7/2017:168, not sold - Heritage 12/2017:3065, $28,800 - Legend Rare Coin Auctions 5/2018:505, $36,425 - D.L. Hansen Collection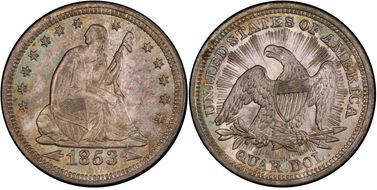 #3 MS66 PCGS grade

James Swan US Type Collection - D. Brent Pogue Collection, Part V - Stack's/Bowers & Sotheby's 3/2017:5022, $21,150 - The Type Set Collection (Oliver Jung) (PCGS Set Registry) - Legend Rare Coin Auctions 9/2019:228, $21,150 - Heritage 1/2020:4163, not sold
#3 MS66 PCGS grade

John Work Garrett Collection - Johns Hopkins University Collection, Part II - Bowers & Ruddy 3/1980:659, $35,000