1853 50C Arrows and Rays AU55
Certification #11886231,
PCGS #6275
Expert Comments
Ron Guth
In 1853, the American Congress passed a Coinage Act that reduced the weights of the Half Dimes, Dimes, Quarter Dollars, and Half Dollars to correct the imbalance in the prices of gold and silver. To make the change obvious, arrowheads were placed on either side of the date and rays were placed throughout the reverse. Production of the new Half Dollars ballooned in 1853 to over 3.5 million coins -- a level unseen since ten years earlier. The New Orleans mint contributed another 1.3+ million coins. With the rays on the reverse, this became a one-year type coin (from 1854 to 1855, the rays were removed but the arrowheads remained). This date is very plentiful in most Mint State grades, but type collectors keep the price higher than usual. Numerous Gem examples remain, but Superb examples (those MS66 and better) are very scarce.
Designer
Thomas Sully/Christian Gobrecht
Diameter
30.00 millimeters
Metal
90% Silver, 10% Copper
Region
The United States of America
Price Guide
PCGS Population
Auctions - PCGS Graded
Auctions - NGC Graded
Rarity and Survival Estimates

Learn More
65 or Better
6000
All Grades
600
60 or Better
30
65 or Better
R-3.8
All Grades
R-5.8
60 or Better
R-8.9
65 or Better
2 / 2
All Grades
2 / 2
60 or Better
2 / 2
65 or Better
126 / 126
All Grades
125 / 126
60 or Better
83 / 126 TIE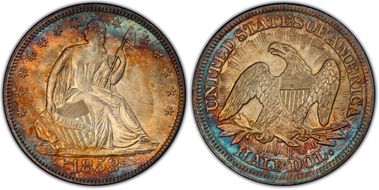 #1 MS67 PCGS grade

Bob R. Simpson Collection
#1 MS67 PCGS grade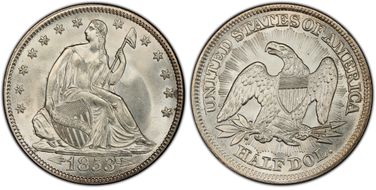 #3 MS66+ PCGS grade

Heritage 9/2013:6436, $76,375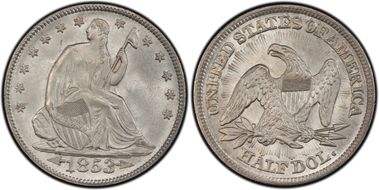 #3 MS66+ PCGS grade

Ed Hipps, sold privately in 1979 for $25,000 - Douglas C. Kaselitz Collection - Stack's/Bowers 7/2015:5179, $94,000
#3 MS66+ PCGS grade

Larry Whitlow, sold privately in 1/2008 - Eugene H. Gardner Collection, Part III - Heritage 5/2015:98471 - Heritage 1/2016:5370, $44,650