1854 G$1 Type 2 AU55
Certification #24724957,
PCGS #7531
Expert Comments
David Akers (1975/88)
It is interesting to note that the auction survey indicates that the 1854 Type II and 1855 are virtually of identical rarity, both from the standpoint of number of appearances (222 and 223 respectively) as well as from the standpoint of average grade. The data also indicates that the 1854 Type II is the third most common of all gold dollars, and so the relatively high price it brings is due solely to its being a definite type coin. High grade examples, that is AU or Unc. pieces, are readily available, and even gem specimens are encountered with regularity. Many specimens show numerous clash marks on both obverse and reverse as well as a weakness in the LL of DOLLAR and the 85 of the date. Full date specimens, however, are definitely more common than they are for 1855.
Designer
James Barton Longacre
Diameter
14.30 millimeters
Metal
90% Gold, 10% Copper
Region
The United States of America
Price Guide
PCGS Population
Auctions - PCGS Graded
Auctions - NGC Graded
Rarity and Survival Estimates

Learn More
65 or Better
5000
All Grades
1750
60 or Better
75
65 or Better
R-4.0
All Grades
R-4.7
60 or Better
R-8.2
65 or Better
5 / 6 TIE
All Grades
6 / 6
60 or Better
1 / 6 TIE
65 or Better
76 / 81 TIE
All Grades
70 / 81 TIE
60 or Better
40 / 81 TIE
#1 MS67 PCGS grade
#1 MS67 PCGS grade
#1 MS67 estimated grade

James Walter Carter & Margaret Woolfolk Carter Collections - Stack's 1/1986:29 - David Akers "Auction '89" 7/1989:1341 - American Numismatic Rarities 7/2003:624, $92,000 - Southwest Collection - Heritage 2/2008:2330, $149,500 - Stack's 1/2009:8579, $161,000
#1 MS67 estimated grade

Louis E. Eliasberg, Sr. Collection - Bowers & Merena 10/1982:25, $30,800 - Bowers & Merena 7/2002:669, $126,500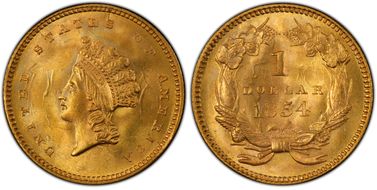 #5 MS66+ PCGS grade