1858-S 25C XF45
Certification #35479623,
PCGS #5447
Expert Comments
Ron Guth
The 1858-S Quarter Dollar has a small mintage of only 121,000 pieces. In low grades, this date can be found with little difficulty, but in high grades, the opposite is true. The PCGS Condition Census is limited to About Uncirculated grades and, unlike most other Seated Liberty Quarters, none have been graded in Mint State by PCGS. The finest example of this date is the NGC MS62 from the Richmond Collection that sold for $44,850 back in 2005.
This date shows excellent strike characteristics. The problem for collectors is finding a nice, clean, high-grade example.
Designer
Robert Ball Hughes/Christian Gobrecht
Diameter
24.30 millimeters
Metal
90% Silver, 10% Copper
Region
The United States of America
Price Guide
PCGS Population
Auctions - PCGS Graded
Auctions - NGC Graded
Rarity and Survival Estimates

Learn More
65 or Better
175
All Grades
0
60 or Better
0
65 or Better
R-7.2
All Grades
R-10.1
60 or Better
R-10.1
65 or Better
3 / 49
All Grades
1 / 49
60 or Better
1 / 49
65 or Better
9 / 114
All Grades
1 / 114
60 or Better
1 / 114
#1 MS62 PCGS grade

Bowers & Merena 8/1995:112, $6,600 - Richmond Collection [Bradley Hirst], Part III - David Lawrence 3/2005:1446, $44,850 - Eugene H. Gardner Collection, Part III - Heritage 5/2015:98347, $35,250 - Heritage 10/2015:3189, $28,200 - Heritage 4/2016:4623, $25,850 - Tracking Seated Coins Collection (PCGS Set Registry)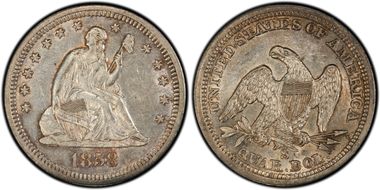 #2 AU55 PCGS grade

Heritage 1/2011:5513, $11,213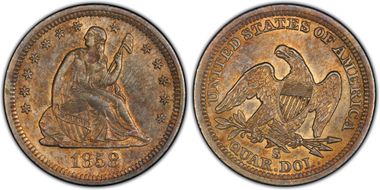 #2 AU55 PCGS grade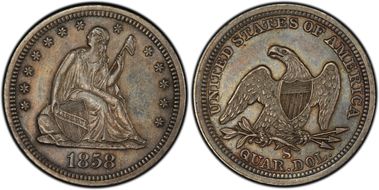 #2 AU55 PCGS grade
#5 AU53 PCGS grade