1859-O H10C MS64
Certification #15651432,
PCGS #4370
Expert Comments
Ron Guth
In 1859, the New Orleans Mint produced far fewer Half Dimes than in the previous year, dropping the mintage from 1,660,000 coins to a mere 560,000. However, the PCGS Population Report shows the 1859-O to be only twice as rare as the 1858-O, suggesting that collectors may have set aside more of the 1859-O's since this was the last year that New Orleans would produce No Stars Half Dimes.
In general, this date shows the poor strike qualities typical of New Orleans Mint products. Often, the stars are weak; more often, the denticles are weak. Nonetheless, a well-struck 1859-O shows up occasionally and such coins should command a nice premium.
The best example known of this date is a single PCGS MS66+ (illustrated above)
Designer
Robert Ball Hughes/Christian Gobrecht
Diameter
15.90 millimeters
Metal
90% Silver, 10% Copper
Region
The United States of America
Price Guide
PCGS Population
Auctions - PCGS Graded
Auctions - NGC Graded
Rarity and Survival Estimates

Learn More
65 or Better
400
All Grades
100
60 or Better
12
65 or Better
R-6.2
All Grades
R-8.0
60 or Better
R-9.5
65 or Better
19 / 36 TIE
All Grades
19 / 36
60 or Better
14 / 36 TIE
65 or Better
36 / 79 TIE
All Grades
36 / 79 TIE
60 or Better
21 / 79 TIE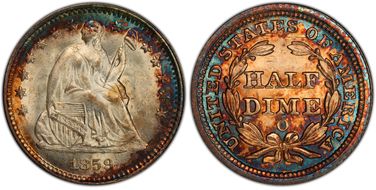 #1 MS66+ PCGS grade

Bob R. Simpson Collection - Tom Bender Collection
#2 MS66 PCGS grade

Northern Bay Collection - Stack's 3/2006:4101, $5,463 - Heritage 8/2007:490 - Heritage 4/2008:531 - Eugene H. Gardner Collection, Part IV - Heritage 10/2015:98164, $4,935
#2 MS66 PCGS grade
#2 MS66 PCGS grade
#2 MS66 estimated grade