1874-CC 50C Arrows VG8
Certification #26379509,
PCGS #6347
Expert Comments
Ron Guth
For collectors of coins from the Carson City Mint, there are two "must-have" Half Dollars: the 1870-CC and the 1874-CC With Arrows. Both have similar mintages, but for some reason, the 1870-CC is considerably rarer in all grades. The 1874-CC With Arrows Half Dollar is more of a condition-rarity -- though low-grade examples are expensive, they are not as costly as the 1870-CC.
In Mint State, the 1874-CC With Arrows Half Dollar is represented by a handful of low-end Unc.'s, a couple of MS63's, a few more MS64's, then two MS65's and a single MS66. The PCGS MS66 example remains a mystery as it has not appeared on the market since it was first graded in 2003. The best example that has been available to collectors is the Eliasberg PCGS MS65 that reappeared in 2015, setting a record price of $94,000 for the date.
At least three die pairs were used to strike the 59,000 1874-CC With Arrows Half Dollars.
Designer
Thomas Sully/Christian Gobrecht
Diameter
30.00 millimeters
Metal
90% Silver, 10% Copper
Region
The United States of America
Price Guide
PCGS Population
Auctions - PCGS Graded
Auctions - NGC Graded
Rarity and Survival Estimates

Learn More
65 or Better
180
All Grades
15
60 or Better
2
65 or Better
R-7.2
All Grades
R-9.3
60 or Better
R-9.9
65 or Better
1 / 6
All Grades
2 / 6
60 or Better
1 / 6
65 or Better
10 / 126
All Grades
21 / 126 TIE
60 or Better
12 / 126 TIE
#1 MS66 PCGS grade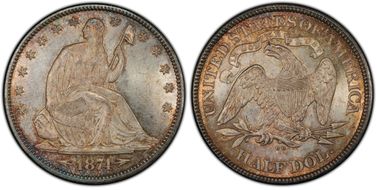 #2 MS65 PCGS grade

Harlan P. Smith Collection, possibly sold privately, as there is no such lot in the 6/1906 S.H. & H. Chapman sale - John M. Clapp Collection - John H. Clapp Collection, sold intact in 1942 - Louis E. Eliasberg, Sr. Collection - Bowers & Merena 4/1997:2029, $60,500 - Stellar Collection - Joseph O'Connor, sold privately in 1/2008 - Eugene H. Gardner Collection - Heritage 5/2015:98489, $94,000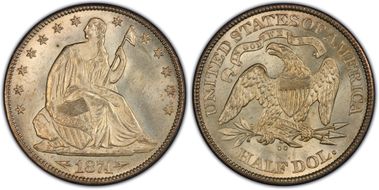 #3 MS64 PCGS grade

Heritage 7/2008:1698, $74,750 - Heritage 4/2009:2475, $43,125 - Heritage 1/2015:4139, $44,650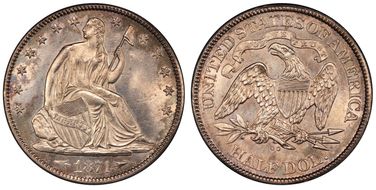 #3 MS64 PCGS grade

Bowers & Merena 3/2002:2492, $46,000 - Eugene H. Gardner Collection, Part IV - Heritage 10/2015:98693, $38,775
#3 MS64 PCGS grade

RARCOA 8/1990:729, $26,400