1875 $2.50 AU55+
Certification #39786349,
PCGS #7822
Expert Comments
David Akers (1975/88)
This rare and popular date has the second lowest mintage of any quarter eagle regularly issued for circulation. (Only the 1954-S has a lower mintage, and just seven additional dates in the entire series have regular mintages less than 1,000 pieces.) I would estimate that no more than half the original proof mintage of 20 pieces still exist in unimpaired state along with 15 to 20 business strikes. Because of the small mintage, every 1875 is essentially a "first strike" and therefore, has a proof-like surface. However, business strikes are readily identifiable from impaired proofs by the significant differenc in the position of the date. On the proofs, the date is high in the field and the 5 nearly touches the bust. On the business strikes, however, the date is lower in the field and the 5 is distant from the bust. The Ullmer coin and the Wolfson coin were both erroneously catalogued as proofs when they were, in fact, business strikes.
To the best of my knowledge, only one uncirculated 1875 is known, that being the specimen sold in the 1975 NASC Sale. This same piece was offered two years earlier in the 1973 ANA Sale.
Designer
Christian Gobrecht
Diameter
18.00 millimeters
Metal
90% Gold, 10% Copper
Region
The United States of America
Price Guide
PCGS Population
Auctions - PCGS Graded
Auctions - NGC Graded
Rarity and Survival Estimates

Learn More
65 or Better
63
All Grades
6
60 or Better
0
65 or Better
R-8.3
All Grades
R-9.7
60 or Better
R-10.1
65 or Better
15 / 147 TIE
All Grades
27 / 147 TIE
60 or Better
1 / 147
65 or Better
15 / 147 TIE
All Grades
27 / 147 TIE
60 or Better
1 / 147
#1 MS64 PCGS grade

Superior "Auction '81" 8/1981:838 - Heritage 7/1993:7308, $33,000 - Goldbergs 5/1999:666, $25,300
#2 MS62 PCGS grade

Harry W. Bass, Jr. Collection - Bowers & Merena 10/1999:587, $17,250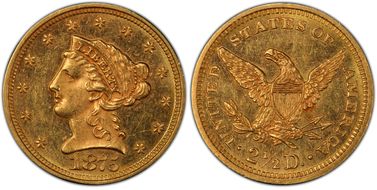 #3 MS61 PCGS grade

New Reverse+ Collection (PCGS Set Registry)
#3 MS61 PCGS grade

Stack's/Bowers 8/2013:4446, $24,675 - Stack's/Bowers 4/2016:13160, not sold
#3 MS61 PCGS grade

Genaitis Collection - Heritage 8/2001:7664, $9,487.50 - Horseshoe Collection - Bowers & Merena 8/2010:1566, $27,025