1880-CC $1 VG8
Certification #29625672,
PCGS #7100
Expert Comments
Ron Guth
The 1880-CC Silver Dollar is a fairly common date thanks to the Treaury hoards that were sold by the General Services Administration (GSA) in the lat 1970's and eatly 1980's. Literally bags and thousands of coins came on the market but the demand was enough to meet all the supply. PCGS has certified over 17,000 1880-CC Dollars as of March 2011 but that number includes all of the different varieties of the year. Nonetheless, 17 bags of anything is a significant quantity, especially Silver Dollars. Despite the large quantities of graded coins, the 1880-CC has been able to maintain a strong valuation...collectors love the CC mintmark.
Several varieties exist of the 1880-CC Silver Dollar, some major, some minor. The most obvious difference is on the reverse. Some 1880-CC Silver Dollars were struck with the reverse of 1878 (flat instead of rounded breast, and with a flat fletch on the top-most arrow). Other varieties include variations of overdates, plus the often minute VAM varieties.
As far as condition goes, most of the certified 1880-CC Silver Dollars are MS-64, bracketed on either side by nearly equal amounts of MS-63 and MS-65 examples. A small percentage of MS-67 examples have been certified by PCGS (see the PCGS Population Report), with none finer. Prooflike examples comprise less than 10% of the population and Deep Mirror Prooflike examples make up less than two percent of the total population.
Collectors may be selective when choosing an 1880-CC Silver Dollar, thanks to the large supply. Collectors should seek out well-struck examples that are either blast white or attractively toned.
Designer
George T. Morgan
Diameter
38.10 millimeters
Metal
90% Silver, 10% Copper
Region
The United States of America
Price Guide
PCGS Population
Auctions - PCGS Graded
Auctions - NGC Graded
Rarity and Survival Estimates

Learn More
65 or Better
247000
All Grades
222000
60 or Better
9750
65 or Better
R-1.8
All Grades
R-1.8
60 or Better
R-3.0
65 or Better
49 / 117 TIE
All Grades
89 / 117 TIE
60 or Better
84 / 117 TIE
65 or Better
49 / 117 TIE
All Grades
89 / 117 TIE
60 or Better
84 / 117 TIE
#1 MS67+ PCGS grade

Jack Lee Collection - Heritage 4/2007:16 - Rusty Goe, 4/2007 - Battle Born Collection - Stack's/Bowers 8/2012:11060, $47,000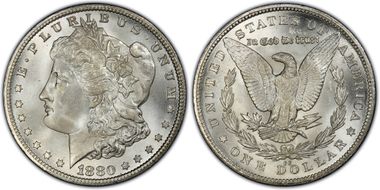 #2 MS67 PCGS grade

Arno Collection - Heritage 1/2009:4949
#2 MS67 PCGS grade

Gold River Collection - PCGS Set Registry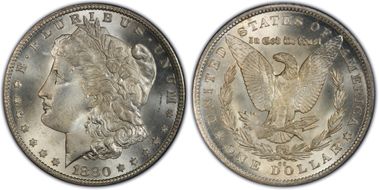 #2 MS67 PCGS grade
#2 MS67 PCGS grade

Sanderson Family Collection - Heritage 1/2009:4948