1883-CC $1 MS63
Certification #36517267,
PCGS #7144
Expert Comments
Ron Guth
The 1883-CC $1 is one of the most common dates issued by the Carson City Mint. Large quantities of full bags of $1,000 face value appeared in the 1960s in U.S. Treasury vaults, accounting for most of the known population. These were distribued in the late 1970s and early 1980s by the General Services Administration, which sold individual coins to dealers and collectors. Today, they are extremely common and can be found with ease in all Mint State grades up to MS67+. The most frequently-seen grade is MS64, where PCGS alone has certified over 15,000 examples (as of July 2015). In general, coins of this date show strong strikes and deep, frosty luster.
Prooflike and Deep Mirror Prooflikes are scarce and represent about one-seventh of the total population. Both appear to be of similar rarity. Gems are readily available in these formats, too, but they are usually more expensive because of their distinctive appearance.
Designer
George T. Morgan
Diameter
38.10 millimeters
Metal
90% Silver, 10% Copper
Region
The United States of America
Price Guide
PCGS Population
Auctions - PCGS Graded
Auctions - NGC Graded
Rarity and Survival Estimates

Learn More
65 or Better
700000
All Grades
500000
60 or Better
34000
65 or Better
R-1.4
All Grades
R-1.6
60 or Better
R-2.6
65 or Better
76 / 117 TIE
All Grades
104 / 117 TIE
60 or Better
102 / 117 TIE
65 or Better
76 / 117 TIE
All Grades
104 / 117 TIE
60 or Better
102 / 117 TIE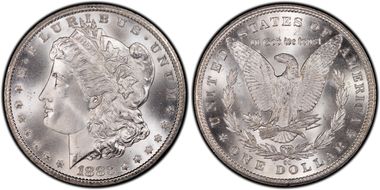 #1 MS68 PCGS grade

Heritage 1/2006:3289, $46,000 - Mile High Collection (PCGS Set Registry) - Heritage 9/2007:2303, $46,000 - Rusty Goe, sold privately in 9/2007 - Battle Born Collection - Stack's/Bowers 8/2012:11063, $80,500 - Coronet Collection - Legend Rare Coin Auctions 6/2015:26, $79,313 - Legend Rare Coin Auctions 9/2016:6, $70,500 - Illinois Set Collection (PCGS Set Registry)
#1 MS68 PCGS grade

Sanderson Family Collection - Heritage 1/2009:4961, $29,900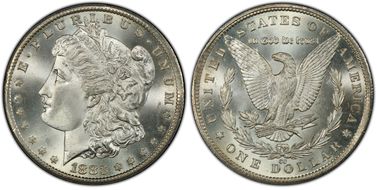 #1 MS68 PCGS grade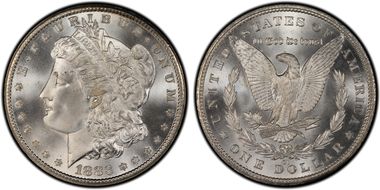 #1 MS68 PCGS grade

Heritage 8/2013:5754, $47,000
#1 MS68 PCGS grade

Legend Rare Coin Auctions 9/2019:382, $67,563