1884-CC $1 MS66
Certification #39465248,
PCGS #7152
Owner's Comments
Mintage 1,136,000. Purchased at the Gettysburg Battlefield coin show.
Expert Comments
Ron Guth
The 1884-CC is one of the most common dates in the entire series, but because of the CC mintmark, it continues to generate a strong collector premium. Most 1844-CC Dollars come from the hoard of dollars found in the Treasury in the 1960's and sold to collectors in the late 1970's and early 1980's. The vast majority of 1884-CC Dollars grade MS-64, with a slightly smaller number in MS-63. Gems are also plentiful but become very scarce in MS-67. The finest examples certified by PCGS as of March 2011 are three MS-68's.
Designer
George T. Morgan
Diameter
38.10 millimeters
Metal
90% Silver, 10% Copper
Region
The United States of America
Price Guide
PCGS Population
Auctions - PCGS Graded
Auctions - NGC Graded
Rarity and Survival Estimates

Learn More
65 or Better
980000
All Grades
975000
60 or Better
26000
65 or Better
R-1.1
All Grades
R-1.1
60 or Better
R-2.7
65 or Better
87 / 117 TIE
All Grades
114 / 117 TIE
60 or Better
96 / 117 TIE
65 or Better
87 / 117 TIE
All Grades
114 / 117 TIE
60 or Better
96 / 117 TIE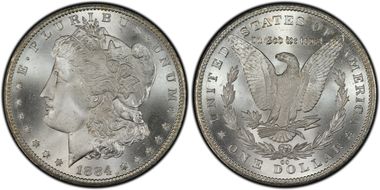 #1 MS68+ PCGS grade

Jack Lee 1 and 2 Collections - Sanderson Family Collection - Heritage 1/2009:4967, $57,500 - Coronet Collection - Legend Rare Coin Auctions 6/2015:30, $85,188
#2 MS68 PCGS grade
#2 MS68 PCGS grade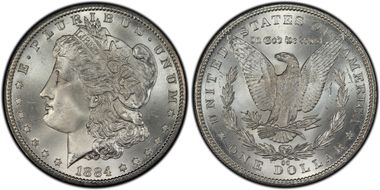 #4 MS67+ PCGS grade

Magnificent Morgans Collection (PCGS Set Registry)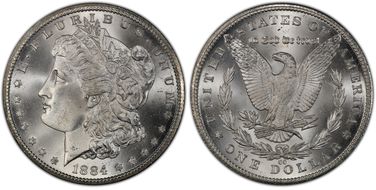 #4 MS67+ PCGS grade