1885-S $1 MS64
Certification #39408942,
PCGS #7164
Expert Comments
Q. David Bowers
The following narrative, with minor editing, is from my "Silver Dollars & Trade Dollars of the United States: A Complete Encyclopedia" (Wolfeboro, NH: Bowers and Merena Galleries, Inc., 1993)
Modest mintage: The mintage of silver dollars dated 1885 at the San Francisco Mint was fairly modest this year. Apparently, most coins were put into circulation at the time or melted under the provisions of the 1918 Pittman Act.
Numismatic Information
Hoard coins; market notes: Quantities of 1885-S dollars were stored at the San Francisco Mint during the early part of the present century, but few people knew it. Over the years-since the time of mintage-there had always been a modest supply of Mint State 1885-S dollars on the market; it was never considered to be a rarity. By 1945 the market price had climbed to about $15 per coin. Right after World War II, when the coin market was experiencing a boom, the San Francisco Mint paid out a lot of early Morgan dollars, 1885-S among them. The price dropped to about $5 per coin by 1947.
Awareness of the availability of dollars at the San Francisco Mint spread, and West Coast dealers tapped this source from time to time. By 1955, the 1885-S was sufficiently common in numismatic circles that bags had little premium value, and singles were being retailed for as low as $2.50 each. The supply of 1885-S dollars was steady for the next two or three years. In November 1958, Harry Warner was advertising rolls of 20 coins for $50. Around that time, the supply dried up. The 1885-S rose in price. In November 1960, Norman Shultz, whose prices were a bellwether of the market, was asking $7.50 for singles. In late summer and early autumn 1962, a few more bags came out, and the price dropped to the point at which Niel Hildebrand advertised 20-coin rolls for $60 ($3 per coin) in October 1962 (this listing was submitted before great Treasury release of dollars which began in October).
During the great Treasury release of 1962-1964, especially in the year 1963, a number of bags of 1885-S dollars were paid out, but I have no specific record of them. Steve Ruddel noted that 1885-S was among the hoard coins coming out in the early 1960s, but did not mention the quantities involved. I suspect that most later quantity offerings - which seem to have been rolls rather than bags - were mainly left over from San Francisco Mint payouts of the mid-1950s. Examples include the May 1964 offering of rolls by Dan Morafka for $270 ($13.50 per coin) and the Harry J. Forman listing in May 1965 at $210 per roll ($10.50 per coin).
While the 1885-S remained plentiful, it was scarce in relation to some of the Morgan dollar varieties that had flooded the market from the 1962-1964 release. Writing in The Morgan and Peace Dollar Textbook in 1962, Wayne Miller stated this: "The 1885-S is still available in large quantities." However, he told of two groups of 15 rolls each, or 600 coins - hardly a "large quantity" in comparison to such issues as 1879-S, 1880-S, 1881-S, etc., which commonly traded in bags. Miller also gave details of a 1978 hoard of 35 to 40 rolls (700 to 800 coins), virtually all of which were of mediocre quality. "Not one coin could be called a gem."
Circulated grades: Worn examples of 1885-S, while not in the category of the commoner Morgan dollars, still exist in large quantities and are scarce, not rare. Sliders (high-grade AU coins) are common from resewn mint sacks; John Love found one such bag containing 1883-S, 1884-S and 1885-S, EF-40 through slider grade. Similarly, Dean Tavenner recalled buying large numbers of 1885-S dollars that came from mint bags and were nearly Uncirculated: "two-beer" dollars that had circulated for just a short time.
Mint State grades: The typical Mint State 1885-S dollar is frosty and has many bagmarks. Most are average to below average strikes, with weakly defined details at the center of the obverse and, especially, on the eagle's breast on the reverse. Most Uncirculated pieces are in lower grades such as MS-60 through 62 or 63. MS-64 specimens are on the scarce side; probably about 4,000 to 8,000 survive. In the context of Morgan dollars, MS-65 coins are rare, and only about 1,000 to 2,000 exist.
Although tens of thousands of 1885-S dollars remain in various Mint State grades combined, as most were marketed before the mid-1960s, few quantities exist today.
Fully struck coins in higher levels can be found with patience "and are worth a strong premium over typical market prices. Cherrypicking for quality is advised.
Prooflike coins: Many semi-prooflike coins exist, mainly in lower grades, as do coins which are prooflike on the reverse only. Some are extensively striated. In 1977 a small hoard of cameo DMPL coins came on the market through Superior's sale of the R.D. Donovan Collection, a most unusual occurrence. Probably, 2,000 to 4,000 PL pieces survive (90% of which are below MS-65), and only 75 to 150 DMPL (virtually all of which are below MS-65).
Varieties
Circulation strikes:
1. Normal date: Breen-5584. Probably not all the 20 pairs of dies were used. At least three obverses show partly repunched date; one reverse (VAM-6) has repunched S west, and from a desirability viewpoint among issues of 1885-S, is considered to be the number one die variety by specialists.
Dies prepared: Obverse: 20; Reverse: 20
Circulation strike mintage: 1,497,000; Delivery figures by month: January: 500,000; February: 500,000; March: 200,000; April: 100,000; May: 100,000; June: 50,000; July: none; August: 47,000; September-December: none.
Estimated quantity melted: Hundreds of thousands, probably under the 1918 Pittman Act.
Availability of prooflike coins: Semi-prooflike and prooflike coins exist and have low contrast and are mainly in lower grades. DMPL coins with cameo contrast and in high grades are known and are very desirable. In contrast to the typical New Orleans dollar represented in hoards, relatively few DMPLs exist in relation to PLs.
Characteristics of striking: Usually lightly struck, especially at the center of the reverse, but there are exceptions.
Known hoards of Mint State coins: The Treasury released quantities of coins from about 1946 through the early 1960s, but bags were not generally available on the market after the late 1950s.
Commentary
This is a scarce San Francisco Mint issue, especially in higher grades and sharply struck.
Additional Information
This year the San Francisco Mint struck 43,690 dimes, which went into circulation and later vanished, creating a rarity. No explanation is at hand for this small mintage; possibly the coins were paid out to silver depositors for the "breakage" (fractions of a dollar) due them for their deposits.
Designer
George T. Morgan
Diameter
38.10 millimeters
Metal
90% Silver, 10% Copper
Region
The United States of America
Price Guide
PCGS Population
Auctions - PCGS Graded
Auctions - NGC Graded
Rarity and Survival Estimates

Learn More
65 or Better
150000
All Grades
66000
60 or Better
1675
65 or Better
R-1.9
All Grades
R-2.3
60 or Better
R-4.7
65 or Better
33 / 117 TIE
All Grades
56 / 117
60 or Better
55 / 117 TIE
65 or Better
33 / 117 TIE
All Grades
56 / 117
60 or Better
55 / 117 TIE
#1 MS67 PCGS grade

California Collection
#1 MS67 PCGS grade

Jack Lee II Collection - Sanderson Family Collection - Heritage 1/2009:4974, $29,900 - Heritage 1/2012:3344, $48,875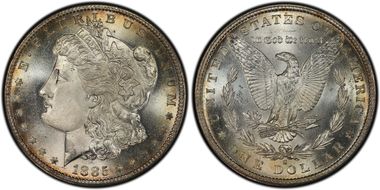 #3 MS66+ PCGS grade

"Coronet" Collection - "Wizard of Oz" Collection (PCGS Set Registry)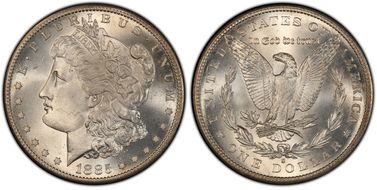 #3 MS66+ PCGS grade

"Wurt I" Collection (PCGS Set Registry)
#5 MS66 PCGS grade