1892 $2.50 AU58
Certification #37819049,
PCGS #7844
Expert Comments
David Akers (1975/88)
This is the lowest mintage quarter eagle after 1885. Despite the fact that there are 36 auction records in unc. for this date in our 226 catalog auction survey, I must admit that I have seen relatively few truly choice specimens. In fact, I have seen more choice proofs than I have choice uncirculated pieces. Most of the Uncs. that I have seen have not been choice at all. This is in contrast, for example, to the 1894 which has appeared at auction in Unc. only one more time than the 1892. Most of the 1894's I have seen have been extremely choice, while the majority of the 1892's have been "scruffy".
Designer
Christian Gobrecht
Diameter
18.00 millimeters
Metal
90% Gold, 10% Copper
Region
The United States of America
Price Guide
PCGS Population
Auctions - PCGS Graded
Auctions - NGC Graded
Rarity and Survival Estimates

Learn More
65 or Better
400
All Grades
120
60 or Better
14
65 or Better
R-6.2
All Grades
R-7.8
60 or Better
R-9.4
65 or Better
104 / 147 TIE
All Grades
107 / 147 TIE
60 or Better
50 / 147
65 or Better
104 / 147 TIE
All Grades
107 / 147 TIE
60 or Better
50 / 147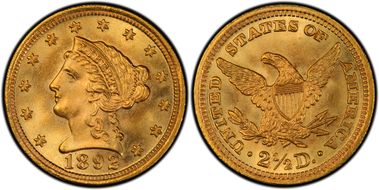 #1 MS67 PCGS grade
#1 MS67 PCGS grade
#1 MS67 PCGS grade
#1 MS67 PCGS grade
#1 MS67 estimated grade