1898-S 50C F15
Certification #29833959,
PCGS #6482
Expert Comments
Ron Guth
The 1898-S Half Dollar is a mid-range rarity in the series. Out of the 74 Barber Half Dollar dates, the 1898-S ranks as 30th rarest in all grades. This puts it on par with the 1892-S, 1896, 1903-S, 1906-S, and 1907-S Half Dollars. MS64 is the most frequently-seen grade, and MS64 examples show up in the market with reliable regularity. In grades of MS65 and higher, this is a real tough date, and it is one of the few dates in the series which shows no MS67 or better examples (this may be because of the remote location of the San Francisco Mint from the collecting centers of the East).
The strike quality of the 1898-S Half Dollars is usually excellent. Almost all of the top-graded 1898-S Half Dollars are toned to some degree, which adds to their eye appeal and originality.
---
David Akers
Like the 1898-O, this is a very underrated issue, especially in...Gem condition...
Designer
Charles E. Barber
Diameter
30.00 millimeters
Metal
90% Silver, 10% Copper
Region
The United States of America
Price Guide
PCGS Population
Auctions - PCGS Graded
Auctions - NGC Graded
Rarity and Survival Estimates

Learn More
65 or Better
2500
All Grades
200
60 or Better
30
65 or Better
R-4.5
All Grades
R-7.0
60 or Better
R-8.9
65 or Better
30 / 74 TIE
All Grades
12 / 74 TIE
60 or Better
9 / 74 TIE
65 or Better
30 / 74 TIE
All Grades
12 / 74 TIE
60 or Better
9 / 74 TIE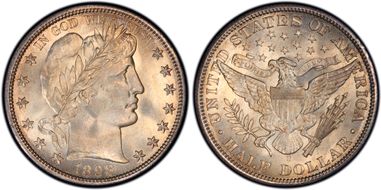 #1 MS66+ PCGS grade

David Akers, sold privately on 11/12/1992 - Dr. & Mrs. Steven L. Duckor Collection - Heritage 8/2010:3193, $25,300 - Greensboro Collection, Part V - Heritage 8/2015:4078, $19,975 - "Perfection 9" Collection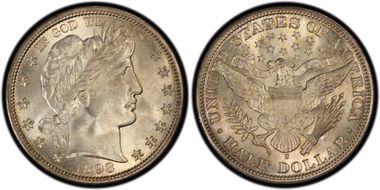 #1 MS66+ PCGS grade

Norweb Family - Bowers & Merena 11/1988:3616 - Dr. Thaine Price - David Akers 5/98:144 - John C. Hugon - Heritage 1/2005:4219, $14,375 - Owen Collection - Heritage 8/2013:5653, $12,925 - David Lawrence 11/2016:8142, $16,000 - D.L. Hansen Collection
#3 MS66 PCGS Grade

John M. Clapp, acquired directly from the San Francisco Mint, November 1898 - John H. Clapp - Clapp estate, 1942 - Louis E. Eliasberg, Sr. Collection - Bowers and Merena 4/1997: 2084 - Larry H. Miller Collection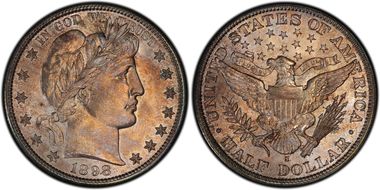 #3 MS66 PCGS grade

Heritage 2/2003:7878, $8,625 - Harry Laibstain - Dr. Peter & Janice Shireman Collection - Heritage 1/2016:5395, $12,925 - Heritage 4/2020:3536, $8,400
#3 MS66 PCGS grade

Joseph O'Connor, sold privately on 6/2003 - Eugene H. Gardner Collection - Heritage 6/2014:30556, $9,693.75