1899-O 50C G6
Certification #43874815,
PCGS #6484
Expert Comments
Ron Guth
The 1899-O Half Dollar shares a similar population profile with the 1898-O. The 1899-O appears most frequently in MS63 and MS64. In MS65 and MS66, the populations of the 1899-O Half Dollar are almost equal -- and both are very low. No 1899-O Half Dollars are known in MS67. Curiously, the 1899-O ranks in a tie with several other dates as fourth rarest overall in the series.
Fortunately, the 1899-O comes better struck than the 1898-O (which is notoriously weak).
---
David Akers
The 1899-O Barber Half Dollar is not as rare as any of the O Mint issues preceding it or those that follow through 1906; in fact, it is relatively available in grades up to and including Choice Uncirculated. However, above that level it is very scarce and true Gems...are rare.
Designer
Charles E. Barber
Diameter
30.00 millimeters
Metal
90% Silver, 10% Copper
Region
The United States of America
Price Guide
PCGS Population
Auctions - PCGS Graded
Auctions - NGC Graded
Rarity and Survival Estimates

Learn More
65 or Better
1250
All Grades
250
60 or Better
40
65 or Better
R-4.9
All Grades
R-6.6
60 or Better
R-8.7
65 or Better
4 / 74 TIE
All Grades
28 / 74 TIE
60 or Better
16 / 74 TIE
65 or Better
4 / 74 TIE
All Grades
28 / 74 TIE
60 or Better
16 / 74 TIE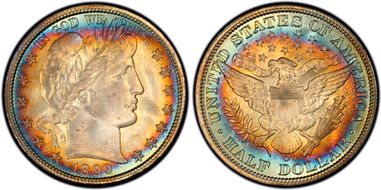 #1 MS66+ PCGS grade

David Akers, sold privately on 11/12/1992 - Dr. & Mrs. Steven L. Duckor Collection - Heritage 8/2010:3195, $25,300 - Perfection Collection - D.L. Hansen Collection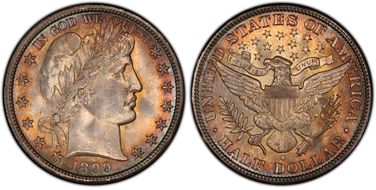 #1 MS66+ PCGS grade

Dr. Thaine B. Price Collection - David Akers 5/1998:146, $12,100 - Harry Laibstain, sold privately on 2/26/2005 - Dr. Peter & Janice Shireman Collection - Heritage 1/2016:5396, $18,800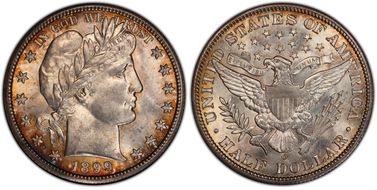 #1 MS66+ PCGS grade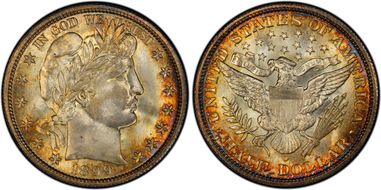 #4 MS66 PCGS grade
#4 MS66 PCGS grade

Dennis Nagy - Dale Friend - Heritage 1/2009:3882, $10,350