1900 10C MS64
Certification #33233570,
PCGS #4821
Expert Comments
Ron Guth
The 1900 Dime is a very common coin that can be found with ease in all grades up to and including MS64. In MS65 and better grades, the population dips way down, but even those grades appear on the market frequently. In MS67, this date becomes extremely rare. The best example is a single PCGS MS67+ in the Lilly Nicole Collection.
The PCGS CoinFacts Condition Census for this date contains a minimum of MS65 and better coins, indicating the great conditions in which the 1900 Dimes have survived. The reader will note that virtually all of the top-end examples sport colorful toning and superb eye appeal.
Designer
Charles E. Barber
Diameter
17.90 millimeters
Metal
90% Silver, 10% Copper
Region
The United States of America
Price Guide
PCGS Population
Auctions - PCGS Graded
Auctions - NGC Graded
Rarity and Survival Estimates

Learn More
65 or Better
25000
All Grades
750
60 or Better
125
65 or Better
R-2.7
All Grades
R-5.5
60 or Better
R-7.7
65 or Better
56 / 76 TIE
All Grades
49 / 76 TIE
60 or Better
50 / 76 TIE
65 or Better
56 / 76 TIE
All Grades
49 / 76 TIE
60 or Better
50 / 76 TIE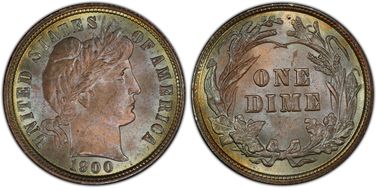 #1 MS67+ PCGS grade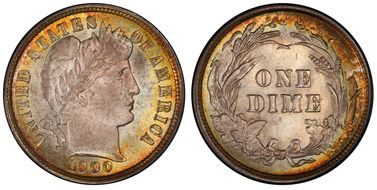 #2 MS67 PCGS grade

Lilly Nicole Collection - Heritage 4/2015:3920, $5,999.55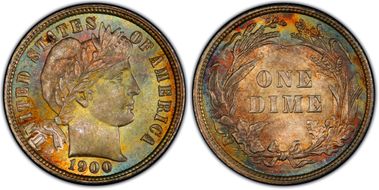 #2 MS67 PCGS grade

Bob R. Simpson Collection - Legend Rare Coin Auctions 12/2014:83, $5,523 - Stack's/Bowers 11/2015:20032, $4,993.75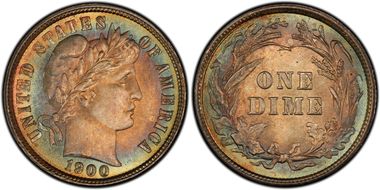 #2 MS67 PCGS grade

Heritage 1/2002:5927 - Heritage 1/2005:4024 - Eugene H. Gardner Collection, Part III - Heritage 5/2015:98291, $4,230 (plate-matched) - Heritage 9/2015:3828, $5,405 - Heritage 6/2016:4395, $5,005.50
#2 MS67 PCGS grade