1901 50C, CAM PR66+ CAM
Certification #25532143,
PCGS #86548
Expert Comments
Ron Guth
In 1901, the Philadelphia Mint produced only 813 Proof Barber Half Dollars for sale to collectors. This mintage was down slighty from that of the previous year, but was still average to above-average for the series. The survival rate for this date is quite high, as over half of the mintage has been certified. The quality of those survivors is mixed, ranging from a number of slightly impaired Proofs to some really superb examples. In better are plentiful quantities of Choice to Gem Proofs. Cameos are slightly scarcer than in previous years and, for some reason, Deep Cameo Proofs are extremely rare.
Designer
Charles E. Barber
Diameter
30.00 millimeters
Metal
90% Silver, 10% Copper
Region
The United States of America
Price Guide
PCGS Population
Auctions - PCGS Graded
Auctions - NGC Graded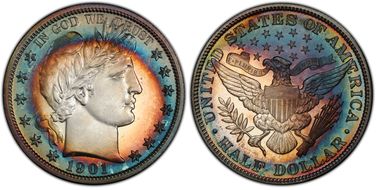 #1 PR68+CAM PCGS grade

"Cheyenne" Collection (PCGS Set Registry) - "Young - Dakota" Collection (PCGS Set Registry)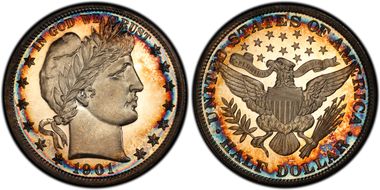 #2 PR68CAM PCGS grade

Bob R. Simpson Collection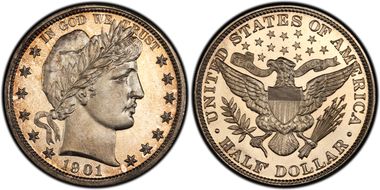 #2 PR68CAM PCGS grade

Walter H. Childs Collection, purchased directly from the U.S. Mint - Bowers & Merena 8/1999:405, $12,650 - Eugene H. Gardner Collection, Part I - Heritage 6/2014:30575, $23,500 - "Perfection 10" Collection
#2 PR68CAM estimated grade

John C. Hugon Collection - Heritage 1/2005:4281, $43,125
#5 PR67+CAM PCGS grade