1901-S 50C G4
Certification #44160551,
PCGS #6491
Owner's Comments
CDN Bid/Ask 3/13/2022 $62/$84
Expert Comments
Ron Guth
The 1901-S Half Dollar is a semi-scarce issue that is popular in all grades. David Akers compared this date to the 1901-O, so let's see how the comparison holds up. There are actually more certified 1901-S Half Dollars floating around than 1901-O's. There are fewer Mint State 1901-S Half Dollars, too, but they tend to be nicer than the Mint State 1901-O's -- probably because the strike quality on the 1901-S is usually much stronger. For instance, there are more MS65, MS66, and MS67 examples of the 1901-S than there are of the 1901-O. Nonetheless, 1901-S Half Dollars tend to bring more than 1901-O's. The finest 1901-S is a coin that has a pedigree stretching all the way back to the year of issue. When that coin sold as part of the Dr. Duckor collection of Barber Half Dollars, it set a record price of $86,250.
---
David Akers
This is one of the most famous and well known issues of the series due, in large part, to the rarity and popularity of the Quarter of the same date and mint. However, this issue is sufficiently rare to stand entirely on its own merit, and ironically, it is even more rare in Gem condition than the Quarter. Like the 1901-O..., to which it compares very favorably in terms of overall rarity, the 1901-S Half Dollar is probably solidly in the top ten or so issues of the series in terms of both population rarity and condition rarity. Gems are exceptionally difficult to find (the Eliasberg coin and the Emery-Nichols example being the most notable exceptions), and even Choice and Very Choice Uncirculated examples must be considered to be very rare.
Designer
Charles E. Barber
Diameter
30.00 millimeters
Metal
90% Silver, 10% Copper
Region
The United States of America
Price Guide
PCGS Population
Auctions - PCGS Graded
Auctions - NGC Graded
Rarity and Survival Estimates

Learn More
65 or Better
2000
All Grades
140
60 or Better
40
65 or Better
R-4.6
All Grades
R-7.6
60 or Better
R-8.7
65 or Better
19 / 74 TIE
All Grades
9 / 74 TIE
60 or Better
16 / 74 TIE
65 or Better
19 / 74 TIE
All Grades
9 / 74 TIE
60 or Better
16 / 74 TIE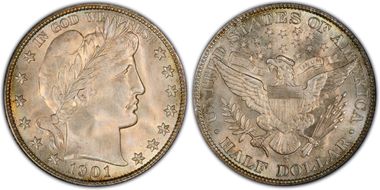 #1 MS67+ PCGS grade

San Francisco Mint - S. Benton Emery - Walter P. Nichols - Bowers & Merena 11/1984:821 - David Akers 1/2004 - Dr. Steven Duckor - Heritage 8/2010:3202, $86,250 - Greensboro Collection, Part V - Heritage 8/2015:4084, $51,700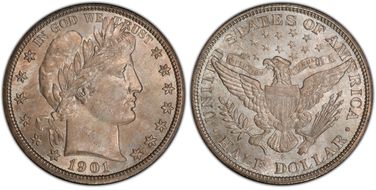 #2 MS67 PCGS grade
#2 MS67 PCGS grade

John C. Hugon Collection - Heritage 1/2005:4228, $34,500 - Heritage 7/2009:1135, $54,625 - Stack's/Bowers 8/2012:11461, $34,500 - Joseph O'Connor, sold privately in 8/2012 - Eugene H. Gardner Collection - Heritage 6/2014:30559 , $30,550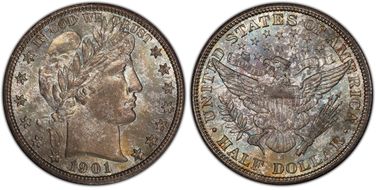 #4 MS66 PCGS grade

David Lawrence Rare Coins - Dr. & Mrs. Peter K. Shireman Collection - Heritage 1/2016:5401, $18,800 - "Perfection 9" Collection
#4 MS66 PCGS grade

Dennis Nagy - Dale Friend - Heritage 1/2009:3888, $48,875