1904 50C G6
Certification #41385289,
PCGS #6498
Expert Comments
Ron Guth
The 1904 Half Dollar is a better date but it is common enough that it cannot be considered underrated. It is much more common than the 1903, including in Mint State. In MS65 and better, it is twice as plentiful as the 1903. All things considered, the 1904 is an excellent value for the type collector because it appears on the market less frequently than common dates such as 1912-D, 1913, 1914, and any of the 1915's, yet it sells for only a slight premium. Plus, most 1904's are well-made and nicely detailed.
---
David Akers
This issue is one of the most underrated in the entire series, but its rarity is recognized and appreciated by relatively few. All mint state grades considered, it is perhaps slightly less rare than the 1903, but it is every bit as rare as the 1903 in Gem condition.
Designer
Charles E. Barber
Diameter
30.00 millimeters
Metal
90% Silver, 10% Copper
Region
The United States of America
Price Guide
PCGS Population
Auctions - PCGS Graded
Auctions - NGC Graded
Rarity and Survival Estimates

Learn More
65 or Better
4000
All Grades
400
60 or Better
50
65 or Better
R-4.2
All Grades
R-6.2
60 or Better
R-8.5
65 or Better
50 / 74 TIE
All Grades
49 / 74 TIE
60 or Better
29 / 74 TIE
65 or Better
50 / 74 TIE
All Grades
49 / 74 TIE
60 or Better
29 / 74 TIE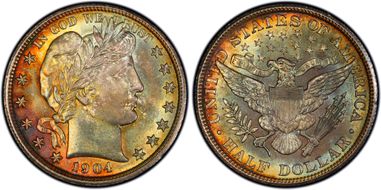 #1 MS67+ PCGS grade

Dale Friend Collection, sold privately in 9/2002 - Dr. & Mrs. Steven L. Duckor Collection - Heritage 8/2010:3209, $51,750 - Heritage 10/2012:4494, $47,000 - "Perfection 9" Collection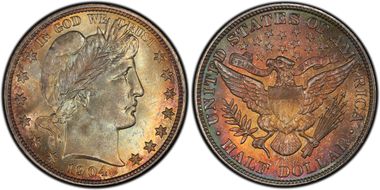 #2 MS66+ PCGS grade

Larry Whitlow, sold privately in 5/2003 - Eugene H. Gardner Collection - Heritage 6/2014:30560, $15,275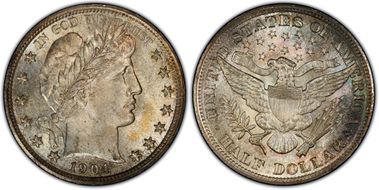 #2 MS66+ PCGS grade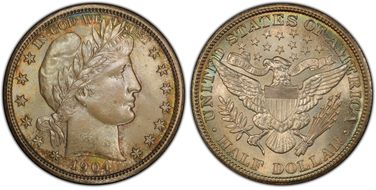 #4 MS66 PCGS grade

Mark Miller - Heritage 3/2009:816, $7,187.50 - "Laxdive" Collection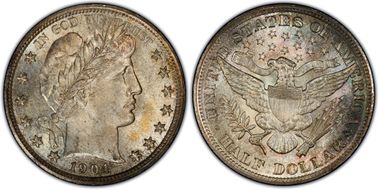 #4 MS66 PCGS grade