1906-O 50C G6
Certification #41385290,
PCGS #6506
Expert Comments
Ron Guth
The 1906-O Half Dollar is definitely scarcer in Mint State than the 1905-O. In fact, the 1906-O is one of the toughest dates among all the O-Mint Barber Half Dollars -- only a few have smaller populations of certified Mint State examples. The 1906-O Half Dollar really shines on the high end, where a number of superb examples top off the condition census. All of the best 1906-O Half Dollars got there because of their amazing, colorful toning. Two standouts include a pair of PCGS MS67+'s from the Hugon-Shireman and Price-Duckor collections (if those names seem familiar it is because they all assembled world-class groupings of Barber Half Dollars).
Unlike most of the other O-Mint Barber Half Dollars, the 1906-O is usually well-struck and fully detailed.
---
David Akers
In my opinion, this is a very underrated issue, one that is more rare, especially in Gem condition, than the 1905-O which had a mintage of only a little more than one fifth as great. It is also very nearly in the same rarity category with respect to Gem condition as most of the more publicized, and generally more highly regarded, O Mint issues from 1892-1904.
Designer
Charles E. Barber
Diameter
30.00 millimeters
Metal
90% Silver, 10% Copper
Region
The United States of America
Price Guide
PCGS Population
Auctions - PCGS Graded
Auctions - NGC Graded
Rarity and Survival Estimates

Learn More
65 or Better
2000
All Grades
200
60 or Better
40
65 or Better
R-4.6
All Grades
R-7.0
60 or Better
R-8.7
65 or Better
19 / 74 TIE
All Grades
12 / 74 TIE
60 or Better
16 / 74 TIE
65 or Better
19 / 74 TIE
All Grades
12 / 74 TIE
60 or Better
16 / 74 TIE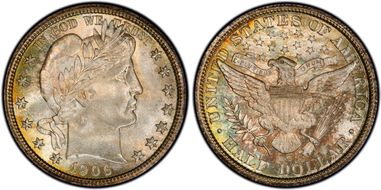 #1 MS67+ PCGS grade

New Orleans Mint - S. Benton Emery - Walter P. Nichols - Bowers & Merena 11/1984:835 - Dr. Thaine B. Price - David Akers 5/1998:168 - Dr. Steven Duckor - Heritage 8/2010:3217, $46,000 - "Perfection" Collection (PCGS Set Registry)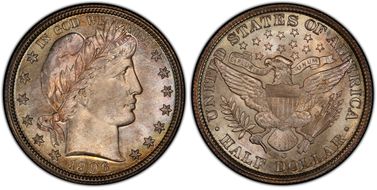 #1 MS67+ PCGS grade

John C. Hugon Collection - Heritage 1/2005:4243, $27,600 - Harry Laibstain - Dr. Peter and Janice Shireman Collection - Heritage 1/2016:5408, $42,300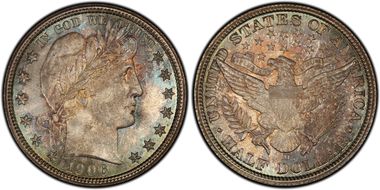 #3 MS67 PCGS grade

Heritage 6/2013:4551, $28,200 - Eugene H. Gardner Collection, Part III - Heritage 5/2015:98532, $18,800 - Greensboro Collection, Part V - Heritage 8/2015:4091, $17,037.50
#4 MS66+ PCGS grade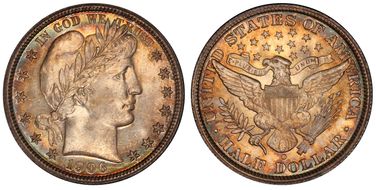 #5 MS66 PCGS grade

Heritage Galleries - Dale Friend - Heritage 1/2009:3898, $12,650