1907-O 25C MS64
Certification #32607849,
PCGS #5647
Expert Comments
Ron Guth
The 1907-O Quarter Dollar is a common coin in all grades. Mint State examples are plentiful, but not nearly as plentiful as some of the dates with thge largest mintages. Among Mint State grades, MS64 appears most often. In Gem condition, the 1907-O Quarter becomes very scarce, though more than two dozen examples are known in MS65 and MS66 combined. A small handful of MS67 examples exist, most of which are colorfully toned (see above). The best example is a single NGC MS68, but the price record belongs to a PCGS MS67 from the Eugene Gardner Collection sold in 2015.
The mintmark is never directly under the center of the eagle's tail. Instead, it is below the left side (viewer's right) of the tail, sometimes closer to the R and sometimes closer to the D.
Designer
Charles E. Barber
Diameter
24.30 millimeters
Metal
90% Silver, 10% Copper
Region
The United States of America
Price Guide
PCGS Population
Auctions - PCGS Graded
Auctions - NGC Graded
Rarity and Survival Estimates

Learn More
65 or Better
7000
All Grades
500
60 or Better
70
65 or Better
R-3.6
All Grades
R-6.0
60 or Better
R-8.3
65 or Better
43 / 74 TIE
All Grades
43 / 74 TIE
60 or Better
38 / 74 TIE
65 or Better
43 / 74 TIE
All Grades
43 / 74 TIE
60 or Better
38 / 74 TIE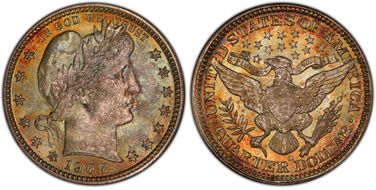 #1 MS67 PCGS grade

David Lawrence Rare Coins, sold privately in 10/1999 - Eugene H. Gardner Collection, Part IV - Heritage 10/2015:98587, $10,575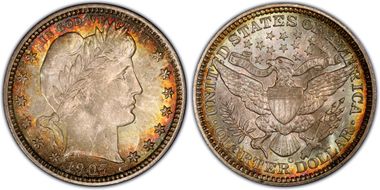 #1 MS67 PCGS grade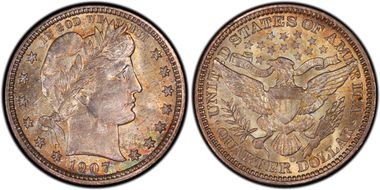 #1 MS67 PCGS grade

Heritage 1/2005:30181 - Oliver Collection - Heritage 8/2011:7117, $7,762.50
#1 MS67 PCGS grade
#1 MS67 estimated grade

Louis E. Eliasberg, Sr. Collection - Bowers & Merena 4/1997:1592, $8,800 - John C. Hugon Collection - Heritage 1/2005:4146 - Eugene H. Gardner Collection - Heritage 6/2014:30433, $9,987.50 - Heritage 1/2015:4659, $9,987.50