1909-O 50C VG10
Certification #85172666,
PCGS #6517
Expert Comments
Ron Guth
The 1909-O Half Dollar is somewhat scarce. Apparently, its status as the last issue from the New Orleans Mint meant little or nothing to collectors, as there was no rush to hoard this date. As a result, Mint State examples are not as plentiful as might be expected. In fact, the 1909-O behaves like the 1908-S -- similar populations centered around the MS64 grade, with few Gems, and really few Superb examples. Akers alluded to the strike on this issue, suggesting that it was usually weak, but such is not the case on the examples we've seen. Rather, this date comes fairly well struck for a New Orleans issue, with only an occasional example showing weakness on the upper right shield.
---
David Akers
The 1909-O Barber Half Dollar had a low mintage of less than 1,000,000 pieces, and it represents the final year from this historic southern mint. In mint state condition, all grades considered, the 1909-O is only scarce and not rare. This means that in grades below Gem condition, it can be obtained with only a moderate amount of difficulty. However, strictly graded Gems...are very rare, and those that are well struck and have excellent luster and eye appeaal are even more rare since they constitute only a very small fraction of the available mint state specimens. This issue is considerably more rare than either of the two immediately preceding O Mint issues, i.e. the 1907-O and 1908-O, but, of course, it is not nearly as rare as any of the O Mint issue prior to 1907.
Designer
Charles E. Barber
Diameter
30.00 millimeters
Metal
90% Silver, 10% Copper
Region
The United States of America
Price Guide
PCGS Population
Auctions - PCGS Graded
Auctions - NGC Graded
Rarity and Survival Estimates

Learn More
65 or Better
1750
All Grades
200
60 or Better
40
65 or Better
R-4.7
All Grades
R-7.0
60 or Better
R-8.7
65 or Better
15 / 74 TIE
All Grades
12 / 74 TIE
60 or Better
16 / 74 TIE
65 or Better
15 / 74 TIE
All Grades
12 / 74 TIE
60 or Better
16 / 74 TIE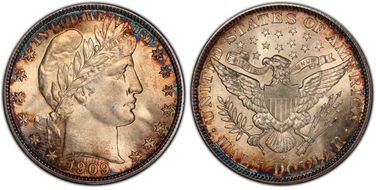 #1 MS67 PCGS grade

John C. Hugon Collection - Heritage 1/2005:4254 - Harry Laibstain, sold privately on 1/12/2005 - Dr. Peter & Janice Shireman Collection - Heritage 1/2016:5416, $35,250 - "Perfection" Collection
#2 MS66 PCGS grade

Bowers & Merena 11/1984:847 - Dr. Thaine B. Price Collection - David Akers 5/1998:179, $12,100 - Dr. & Mrs. Steven L. Duckor Barber Half Dollar Collection - Heritage 8/2010:3228, $9,775 - Greensboro Collection, Part V - Heritage 8/2015:5103, $6,462.50
#2 MS66 PCGS grade

Joseph O'Connor, sold privately in 9/2008 - Eugene H. Gardner Collection, Part III - Heritage 5/2015:98535), $16,450 - "Srotag Barber Halves" Collection
#2 MS66 PCGS grade

Heritage 7/2011:3591, $10,350 - Heritage 4/2016:3591, $7,637.50 - "400 Esplanade" Collection (PCGS Set Registry)
#5 MS65 PCGS grade

Heritage 8/2007:882, $4,887.50 - Heritage 7/2009:1662, $3,220