1910-D $20 MS64
Certification #34666686,
PCGS #9155
Expert Comments
David Akers (1975/88)
The 1910-D is one of the scarcest of the early mintmarked Saint-Gaudens $20 issues, although it cannot be called rare by any means. Below full MS-65, it can be found with little or no difficulty and in gem condition it is very scarce but certainly not rare. My notes indicate I have seen two examples that I called "Superb MS-67" at the time but whether or not they would grade that high by today's standards I am not sure. Suffice to say that a superb 1910-D is a major rarity.
The 1910-D is typically well struck with very slightly satiny surfaces and a trace of granularity. Lustre is typically very good, better than on the 1908-D With Motto, 1909-D or 1911-D in general. The color is most often a light to medium orange gold, but some light greenish gold and orange ones exist as well.
Designer
Augustus Saint Gaudens
Diameter
34.00 millimeters
Metal
90% Gold, 10% Copper
Region
The United States of America
Price Guide
PCGS Population
Auctions - PCGS Graded
Auctions - NGC Graded
Rarity and Survival Estimates

Learn More
65 or Better
43333
All Grades
21666
60 or Better
2750
65 or Better
R-2.5
All Grades
R-2.7
60 or Better
R-4.4
65 or Better
36 / 49 TIE
All Grades
35 / 49 TIE
60 or Better
38 / 49
65 or Better
39 / 54 TIE
All Grades
38 / 54 TIE
60 or Better
41 / 54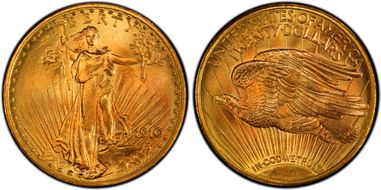 #1 MS67 PCGS grade

Joe O'Connor, sold privately - Dr. & Mrs. Steven L. Duckor Collection - Heritage 1/2012:4613, $80,500 - Bob R. Simpson Collection (PCGS Set Registry)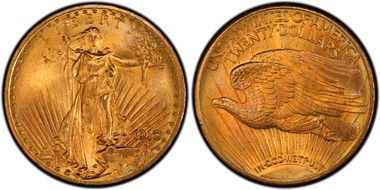 #1 MS67 PCGS grade

Dr. Steven Duckor Collection - Bella Collection (PCGS Set Registry) - A&A Saints Collection (PCGS Set Registry)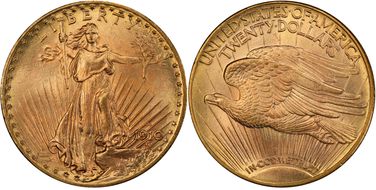 #3 MS66+ PCGS grade

Bob R. Simpson Collection - Fox Collection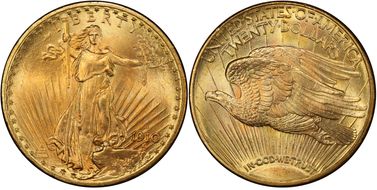 #3 MS66+ PCGS grade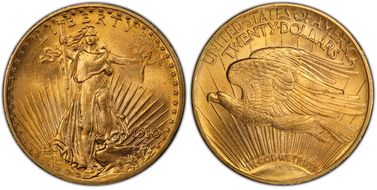 #3 MS66+ PCGS grade