1912 10C MS64
Certification #24868419,
PCGS #4860
Expert Comments
Ron Guth
With a mintage of over 19 million coins, the 1912 Dimes is one of the most common of the series and one of the best choices for type collectors. It is common in all grades. PCGS alone has graded over 900 Mint State examples, mostly in a range from MS62 to MS65 inclusive. Gem examples are common through MS66. In MS67, the population of 1912 Dimes drops off a cliff, with fewer than a dozen certified by PCGS -- and none finer.
Two of the nicest 1912 Dimes are both PCGS MS67+. The first has amazing, multicolored toning; the second is a mostly white example from the Lily Nicole Collection.
Designer
Charles E. Barber
Diameter
17.90 millimeters
Metal
90% Silver, 10% Copper
Region
The United States of America
Price Guide
PCGS Population
Auctions - PCGS Graded
Auctions - NGC Graded
Rarity and Survival Estimates

Learn More
65 or Better
40000
All Grades
3000
60 or Better
750
65 or Better
R-2.6
All Grades
R-4.4
60 or Better
R-5.5
65 or Better
64 / 76 TIE
All Grades
71 / 76 TIE
60 or Better
73 / 76 TIE
65 or Better
64 / 76 TIE
All Grades
71 / 76 TIE
60 or Better
73 / 76 TIE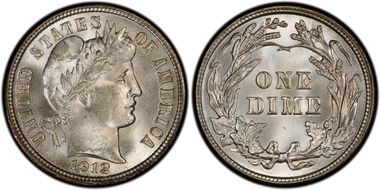 #1 MS67+ PCGS grade

Lily Nicole Collection - Heritage 4/2015:3967, $3,760 - Heritage 1/2016:3814, $3,525 - "Jinx86" Collection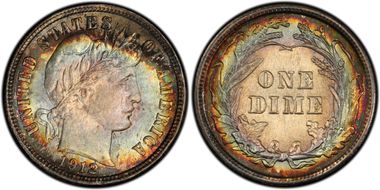 #1 MS67+ PCGS grade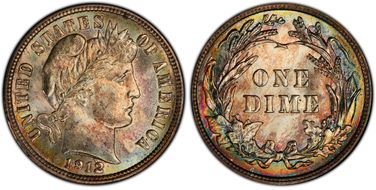 #3 MS67 PCGS grade

Bob R. Simpson Collection - Legend Rare Coin Auctions 12/2014:123, $3,878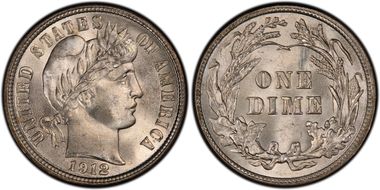 #3 MS67 PCGS grade

Stack's/Bowers 4/2016:16167, $3,290
#3 MS67 PCGS grade

Legend Rare Coin Auctions 1/2017:150, $2,938