1913 5C Type 1 PR66+
Certification #35491992,
PCGS #3988
Expert Comments
Ron Guth
In 1913, the new Buffalo Nickel appeared to enthusiastic reception from the public. The Mint made the normal strikes for circulation and Proofs for sale to collectors. Proof Buffalo Nickels were given the matte finish that first appeared on Lincoln Cents in 1909, which was a framatic change from the brilliant Proofs of previous years. The matte finish is definitely an acquired taste, because it is not dramatically different, at first glance, from a normal circulation strike. However, a well-made matte Proof has crisp details, mark-free surfaces, and a sharply-squared border.
A large percentage of the reported mintage of matte Proof 1913 Type I Nickels have been certified by PCGS (337 out of 1,520, as of February 2012). Of these, the majority appear in the grade range between PR-64 and PR-66. The finest examples certified by PCGS are three PR-68s.
Designer
James Earle Fraser
Diameter
21.20 millimeters
Metal
75% Copper, 25% Nickel
Region
The United States of America
Price Guide
PCGS Population
Auctions - PCGS Graded
Auctions - NGC Graded
Rarity and Survival Estimates

Learn More
65 or Better
900
All Grades
825
60 or Better
550
65 or Better
R-5.2
All Grades
R-5.3
60 or Better
R-5.9
65 or Better
1 / 1
All Grades
1 / 1
60 or Better
1 / 1
65 or Better
2 / 8 TIE
All Grades
2 / 8 TIE
60 or Better
2 / 8 TIE
#1 PR68 PCGS grade

Gerald Forsythe Collection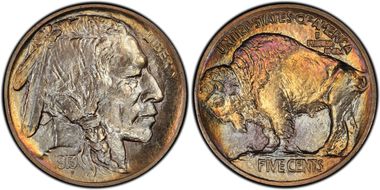 #1 PR68 PCGS grade
#1 PR68 PCGS grade
#1 PR68 PCGS grade
#5 PR67+ PCGS grade

Stack's/Bowers 8/2016:3042, $4,700