1913-D $20 MS66+
Certification #37543074,
PCGS #9162
Expert Comments
David Akers (1975/88)
Overall, the 1913-D is less rare than either the 1910-D or the 1914-D, but the difference is rather minimal. However, in gem condition, I find the 1913-D to be considerably more rare than either of those issues, perhaps two to three times as rare. Most 1913-D double eagles are heavily bagmarked although, in MS-63, this issue is still quite easy to find. In MS-64, the population drops off dramatically and gems are really very scarce, if not rare. The few superb MS-67 examples I have seen of this issue have all been the satiny variety. I consider this issue to be quite underrated, but only in top grade.
There are two distinctly different surface finishes on this issue. The most common by far is "soft" frosty with some granularity, but there are also some that are very satiny. The latter appear to be quite a bit more rare. The typical 1913-D is very sharply struck, and the lustre is generally average or slightly above average for the series. (The satiny specimens are very lustrous.) Color is usually quite good, light to medium orange or coppery gold being standard. A few also have greenish gold highlights.
Designer
Augustus Saint Gaudens
Diameter
34.00 millimeters
Metal
90% Gold, 10% Copper
Region
The United States of America
Price Guide
PCGS Population
Auctions - PCGS Graded
Auctions - NGC Graded
Rarity and Survival Estimates

Learn More
65 or Better
30666
All Grades
14333
60 or Better
1050
65 or Better
R-2.6
All Grades
R-2.9
60 or Better
R-4.9
65 or Better
33 / 49 TIE
All Grades
29 / 49 TIE
60 or Better
34 / 49
65 or Better
36 / 54 TIE
All Grades
31 / 54 TIE
60 or Better
37 / 54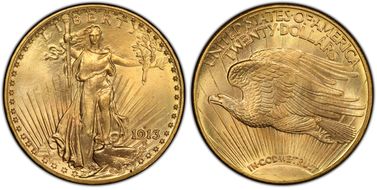 #1 MS66 PCGS grade

Jeff Browning (Dallas Bank Collection) - Sothebys/Stack's 10/2001:172, $8,625 - David Hall, sold privately - Dr. & Mrs. Steven L. Duckor Collection - Heritage 1/2012:4620, $37,375 - "Fox" Collection (PCGS Set Registry)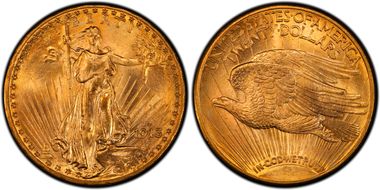 #1 MS66 PCGS grade

Bella Collection - A&A Saints Collection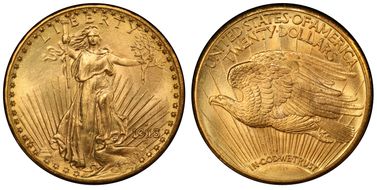 #1 MS66 PCGS grade

Stack's/Bowers 8/2016:3513, $30,550 - D.L. Hansen Collection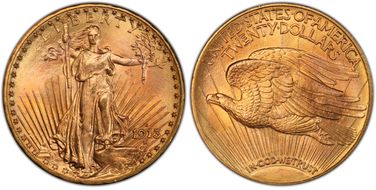 #1 MS66 PCGS grade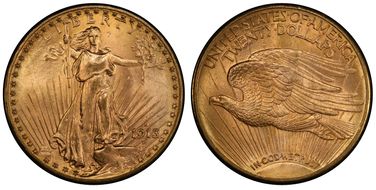 #1 MS66 PCGS grade