1916 1C, RD MS67RD
Certification #50180517,
PCGS #2488
Expert Comments
Jaime Hernandez
The 1916-P Lincoln cent was very well struck and many survive in high uncirculated grades. The coins were struck so well, that many high end uncirculated examples have the appearance of a Proof.
The characteristics of a well preserved 1916-P Lincoln cent will usually display a sharp strike, great luster, clean fields and many times have a light granular type appearance. The edges are also usually well struck and can be almost completely square.
Designer
Victor David Brenner
Diameter
19.00 millimeters
Metal
95% Copper, 5% Tin and Zinc
Region
The United States of America
Price Guide
PCGS Population
Auctions - PCGS Graded
Auctions - NGC Graded
Rarity and Survival Estimates

Learn More
65 or Better
4500
All Grades
4500
60 or Better
2275
65 or Better
R-4.1
All Grades
R-4.1
60 or Better
R-4.5
65 or Better
59 / 143 TIE
All Grades
59 / 143 TIE
60 or Better
57 / 143 TIE
65 or Better
59 / 146 TIE
All Grades
59 / 146 TIE
60 or Better
57 / 146 TIE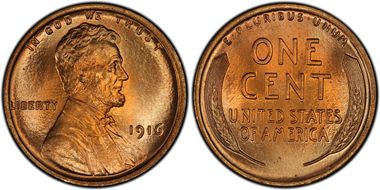 #1 MS67+RD PCGS grade

Heritage 9/2015:3156, $8,225 - Legend Rare Coin Auctions 12/2016:17, not sold - Legend Rare Coin Auctions 7/2017:90, $7,343.75 - "Stiel" Collection (PCGS Set Registry)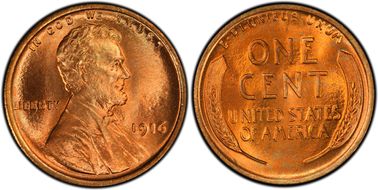 #1 MS67+RD PCGS grade

Heritage 10/2015:3062, $5,405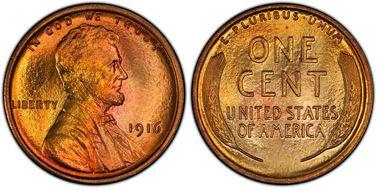 #1 MS67+RD PCGS grade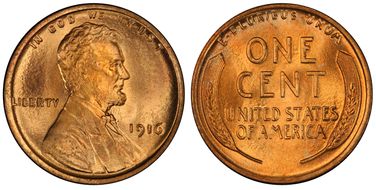 #1 MS67+RD PCGS grade
#1 MS67+RD PCGS grade