1916-S $10 MS63+
Certification #83795827,
PCGS #8880
Expert Comments
David Akers (1975/88)
The large majority of 1916-S eagles come from two small hoards that were dispersed in the mid to late 1970s, and most of them have a very similar "look." They are sharply struck, rather lacklustre by this series' high standards, and are frosty with a trace of granularity to the surfaces. They usually have a light to medium rose and greenish gold toning. Other specimens, not from the hoards, are also very well struck but usually have very good to excellent lustre and great color than can vary from rich greenish gold to medium orange with a greenish gold tint. Many examples of this issue have a weak 1 and the front curve of the 9 in the date.
Because of thee two hoards, which probably numbered about 100-125 pieces total, the 1916-S is the most common Indian Head eagle from the San Francisco Mint. Most of the coins in the hoards were in the MS-60 to MS-63 grades, but there were a very small number of higher grade ones as well. There are some really superb examples of this issue in existence. The satiny Garrett coin was virtually perfect and brought an astounding $5,250 in 1976 and the Norweb specimen graded at least MS65+, if not full MS-67. Kruthoffer's coin was also superb, and his duplicate now owned by Dr. Thaine Price is very nearly so. Dr. Steven Duckor also owns a piece that is distinctly better than MS-65, as do I, and there are several others.
Designer
Augustus Saint Gaudens
Diameter
26.80 millimeters
Metal
90% Gold, 10% Copper
Region
The United States of America
Price Guide
PCGS Population
Auctions - PCGS Graded
Auctions - NGC Graded
Rarity and Survival Estimates

Learn More
65 or Better
3200
All Grades
1450
60 or Better
22
65 or Better
R-4.3
All Grades
R-4.8
60 or Better
R-9.0
65 or Better
13 / 27
All Grades
14 / 27
60 or Better
8 / 27 TIE
65 or Better
15 / 32 TIE
All Grades
16 / 32
60 or Better
8 / 32 TIE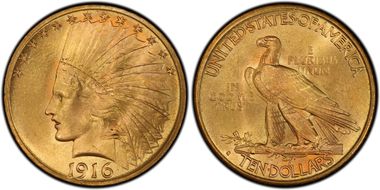 #1 MS67 PCGS grade

King Farouk of Egypt - Sotheby's "Palace Collection" 2/1954:224 - Norweb Collection - Bowers & Merena 3/1988:2324 - Bowers & Merena 11/1998:4036 - Heritage 1/2002:8355 - Superior 8/2002:2119 - Belle Glade Collection - Heritage 8/2007:2007, $115,000 - Jim O'Neal Collection - Heritage 1/2009:3526, $103,500 - Bentley Shores Collection - Stack's/Bowers 8/2013:4563, $111,625
#1 MS67 PCGS grade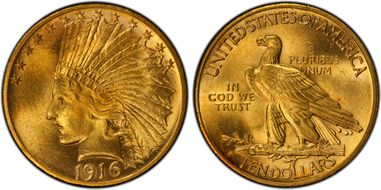 #3 MS66+ PCGS grade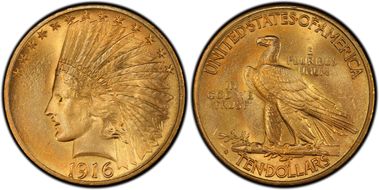 #3 MS66 PCGS grade

Kutasi Collection - Heritage 1/2007:3181 - Jim O'Neal Collection - Heritage 1/2009:3532 - Bentley Shores Collection - Stack's/Bowers 8/2013:41,125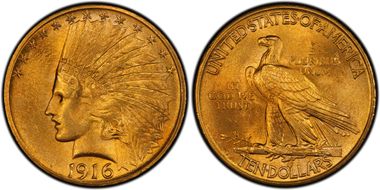 #3 MS66 PCGS grade