1920 $20 MS64
Certification #40685409,
PCGS #9170
Expert Comments
David Hall
The Eliasberg gold coins were sold in October, 1982, in one of the most important auctions of all-time. In the Eliasberg catalog, the 1920 Philadelphia Saint was described as follows,

"1920 Select Brilliant Uncirculated. MS63."

I have a theory. Dave Bowers of course did the cataloging. And he graded every coin, as this was before the days of PCGS and certified grading. It was a monumental task and he did a phenominal job, as he always does. The grading was good throughout the catalog. The one exception is that for some reason a lot of the $20 Saint Gaudens were undergraded. I've never talked to him about it and I hope he doesn't mind me saying it, but maybe at the end of this super human task Dave got a little tired.

At the Eliasberg sale, the 1920 brought more than a MS63 was worth, but it sold for a bargain price for a Gem, $2090. I think it sold cheaply because the 1920, an underrated date now, at the time was a super sleeper that not a lot a people paid attention to. And with a sparse description and a catalog grade of "MS63," and being one of the last lots in one of numismatics most monumental sales, it probably wasn't even looked at by a lot of people. It's OK with me, as Gordon Wrubel and I did look at the coin and we bought it together. We sold it shortly thereafter and I can't remember for how much or to who. Not too long after that Steve Duckor ended up with it and it's been in his incredible Saint set every since.
---
David Akers (1975/88)

Th 1920 is not a praticularly difficult issue to obtain in the lowest Mint State grades, and there are certainly hundreds of examples kown at that level. In MS-63, the 1920 is still available with some regularity but it is definitely very scarce. Above MS-63, one literally runs into the proverbial "brick wall" when trying to find a 1920. Relatively few are known in MS-64 and, in MS-65, this issue is one of the major rarities of this series, virtually on par with the 1913. I have seen a few true gems (Eliasberg's was as nice as any), but it may well be that less than five such specimemns are known. I am unaware of any 1920 that has any legitimate claim to being better than MS-64 although, of course, it is always possible that one exists somewhere. Many people are currently trying to put together gem or near gem quality sets of Saint-Gaudens double eagles, and just about every one of them needs an MS-64 or better example of the 1920. This may well be the most underrated issue of the four 20th-century gold series in top grade.

The 1920 is nearly always very sharply struck. the surfaces are frosty but with a slightly "harder" texture than the earlier frosty issues. Lustre is typically only average for the series although on occasion an example is seen with above average lustre. Color is generally good but nothing great, most often a light to medium orange gold. Hairline obverse die breaks are quite common, particularly through the LIBERTY.
Designer
Augustus Saint Gaudens
Diameter
34.00 millimeters
Metal
90% Gold, 10% Copper
Region
The United States of America
Price Guide
PCGS Population
Auctions - PCGS Graded
Auctions - NGC Graded
Rarity and Survival Estimates

Learn More
65 or Better
13166
All Grades
11666
60 or Better
7
65 or Better
R-2.9
All Grades
R-2.9
60 or Better
R-9.6
65 or Better
23 / 49 TIE
All Grades
29 / 49 TIE
60 or Better
4 / 49 TIE
65 or Better
25 / 54 TIE
All Grades
31 / 54 TIE
60 or Better
4 / 54 TIE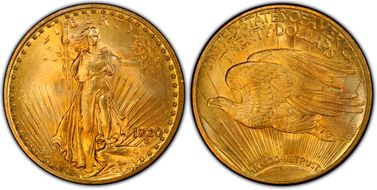 #1 MS65 PCGS grade

Louis E. Eliasberg, Sr. Collection - Bowers & Ruddy 10/1982:1050, $2,090 - Gordon Wrubel/David Hall - Heritage, sold privately in 1996 - Phillip H. Morse Collection - Heritage 11/2005:6639, $63,250 - John Kutasi Collection - Heritage 1/2007:3286, $109,250 - Dr. & Mrs. Steven L. Duckor Collection - Heritage 1/2012:4628, $86,250 - Midsouthcoin Collection (PCGS Set Registry)
#1 MS65 PCGS grade
#3 MS64+ PCGS grade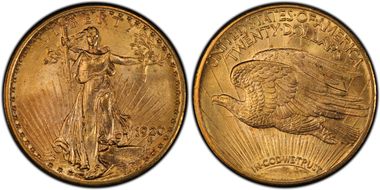 #3 MS64+ PCGS grade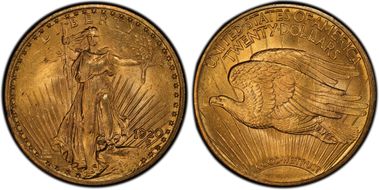 #3 MS64+ PCGS grade