1921 $20 MS64
Certification #06548836,
PCGS #9172
Expert Comments
Ron Guth
At least two examples are known that are special strikings (specimen or presentation pieces).
---
David Akers (1975/88)
Along with the 1920-S, which is just a bit less rare, the 1921 is the premier condition rarity of the Saint-Gaudens double eagle series. More than half of the total popuation is in circulated condition, and the majority of the Mint State pieces grade only MS-60. There are some around that grade MS-61 or MS-62, but in MS-63 or higher grade this issue is all but impossible to obtain. I would estimate that only eight to 10 exist in MS-63 and only a very few exist that could reasonably be graded MS-64 or better. On my rarity scale, I could probably have rated the 1921 as R-10 (Impossible) for both MS-64 and MS-65 and not received much contradiction. Three specimens stand out above the rest (of those that I have seen) by a considerable margin. Two specimens from the George Goddard Collection were sold by Stack's in 1982. Both are true gems and are virtually identical in overall quality and appearance. One is now owned by Dr. William Crawford, the other by a prominent Eastern collector. The third super 1921 is the Eliasberg example, which is almost identical to the Goddard pieces in overall appearance but has perhaps a few more tiny marks. It grades at least MS-64 and many would grade it full gem. All three coins were undoubtedly obtained directly from the Mint in the year of issue.
The 1921 is generally sharply struck with frosty surfaces and lustre that is only average at best for the series, but a very few examples have somewhat satiny surfaces and very good lustre. (The three top quality examples mentioned above all have exceptional lustre, however, and so it is entirely possible that the somewhat lacklustre appearance of most specimens is due to their low condition and not a result of how they were made.) Color is typically very good, a light to medium, sometimes even rich, orange and greenish gold. Some specimens have tiny hairline die breaks running through the letters in LIBERTY.
Designer
Augustus Saint Gaudens
Diameter
34.00 millimeters
Metal
90% Gold, 10% Copper
Region
The United States of America
Price Guide
PCGS Population
Auctions - PCGS Graded
Auctions - NGC Graded
Rarity and Survival Estimates

Learn More
65 or Better
145
All Grades
65
60 or Better
4
65 or Better
R-7.5
All Grades
R-8.3
60 or Better
R-9.8
65 or Better
6 / 49 TIE
All Grades
3 / 49 TIE
60 or Better
1 / 49
65 or Better
6 / 54 TIE
All Grades
3 / 54 TIE
60 or Better
1 / 54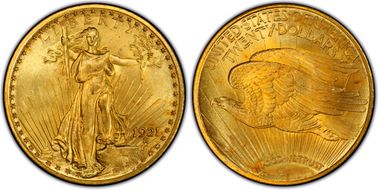 #1 MS66 PCGS grade

Dr. Thomas Louis Comparette - George Seymour Godard - possibly Senator Hall's widow, before Godard purchased his collection - Godard Collection - Stack's "Auction '82" 8/1982:447, $32,000 - Superior 1/1984:1875, $57,500 - Dr. & Mrs. Steven Duckor Collection - Heritage 1/2012:4630, $747,500
#1 MS66 PCGS grade

Possibly Ex: Thomas Comparette to George Godard to Senator Hall - Stack's 3/1982:1471, $41,000 - Crawford Collection - Phillip H. Morse Collection - Heritage 11/2005:6644 (as PCGS MS66 05651168), $1092,500
#3 MS65+ PCGS grade

Dr. Thomas Louis Comparette - George Godard - Senator Hall - Louis Eliasberg - Bowers & Ruddy, 10/1982:1052 - Dr. Stephen Duckor - Jay Parrino (1990) - Phillip H. Morse Collection - Heritage 11/2005:6645 (as PCGS MS65), $805,000 - Simpson Collection
#4 MS65 PCGS grade

Dr. Robert Hesselgesser Collection - Goldbergs 9/2007:3524 (as PCGS MS65 11617047)), $1,012,000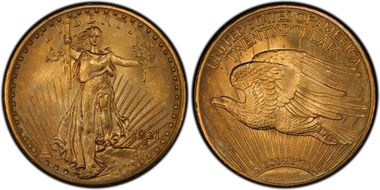 #5 MS64 PCGS grade

Bella Collection (PCGS Set Registry)