1923 $20 MS64+
Certification #34464296,
PCGS #9175
Expert Comments
David Akers (1975/88)
Although the 1923 is widely considered to be a "common" date, it is really only deserving of that status in MS-63 or lower condition. In MS-64 condition, this issue is surprisingly difficult to locate and true gems are far more rare than all but the long time specialists in this series realize. Above the MS-65 level, the 1923 is a major rarity and I do not recall ever seeing one that I would grade a full MS-67. Other specialists have reported seeing a very few such specimens, however.
The 1923 is generally very well struck, although many, if not most, specimens are a little weak on the Capitol building and the stars beneath it. The rim is usually sharp and square, often with a partial wire edge. All specimens are fully frosty. The color is typically a light to medium orange or coppery gold. Some examples show evidence of "mounding" or die bulging beneath the topmost stars.
Designer
Augustus Saint Gaudens
Diameter
34.00 millimeters
Metal
90% Gold, 10% Copper
Region
The United States of America
Price Guide
PCGS Population
Auctions - PCGS Graded
Auctions - NGC Graded
Rarity and Survival Estimates

Learn More
65 or Better
152500
All Grades
118333
60 or Better
2250
65 or Better
R-1.9
All Grades
R-1.9
60 or Better
R-4.5
65 or Better
42 / 49 TIE
All Grades
43 / 49 TIE
60 or Better
36 / 49 TIE
65 or Better
46 / 54 TIE
All Grades
47 / 54 TIE
60 or Better
39 / 54 TIE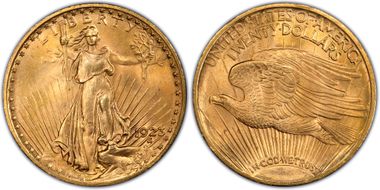 #1 MS66 PCGS grade

Kutasi Collection - Heritage 1/2007:3291, $37,375 - A & A Saints Collection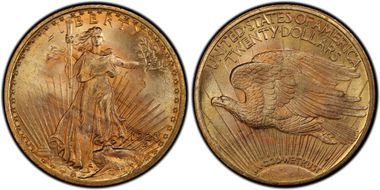 #1 MS66 PCGS grade

Paramount "Auction '84" 7/1984:994 - David Akers - Dr. Steven L. Duckor Collection - Phillip H. Morse Saint-Gaudens Collection - Heritage 11/2005:6653, $48,875 - Dr. & Mrs. Steven L. Duckor Collection (repurchased in 2007) - Heritage 1/2012:4633, $40,250 - Bob R. Simpson Collection
#1 MS66 PCGS grade
#4 MS65+ PCGS grade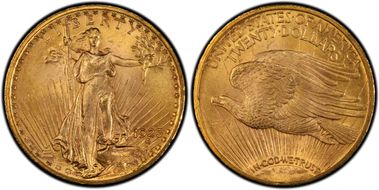 #5 MS65 PCGS grade