1925-S $20 MS63+
Certification #14528682,
PCGS #9182
Expert Comments
David Akers (1975/88)
The 1925-S is one of the major rarities of the series, especially in MS-64 or better condition. This is the only mintmarked issue of this decade that is more common in circulated condition than in Mint State. I have seen many otherwise excellent quality collections of this series that have only an About Uncirculated or MS-60 example of this underrated issue. Three specimens stand out above the rest. From a technical grade standpoint, the finest may be the piece from Paramount's 1980 Grand Central Sale to which it had been consigned by a Washington, D.C. doctor who had obtained the piece directly from the Mint in the year of issue. The piece later appeared in the 1987 ANA sale, where I purchased it for a client. The coin grades at least MS-65+, possibly even MS-67. The second best example is owned by Dr. Steven Duckor; it is a fully struck, highly lustrous gem piece with great lustre and color. The third nicest I have seen was a satiny specimen in the 1987 F.U.N. sale that was purchased by Dr. William Crawford. Despite a few faint hairlines, it is an exceptional coin,virtually free of bagmarks, with wonderful lustre and color.
The 1925-S is generally well struck, although some specimens have a slight weakness on the lower obverse and a weak 5 in the date. Some others display a softness or lack of definition on the central devices. As is typical of the San Francisco Mint issues of this decade, the 1925-S often has very rounded, almost beveled rims. It is also quite common to see examples that have hairline die breaks and noticeable signs of die buckling or deterioration near the rims. One variety has a prominent vertical die break through the eagle's beak. The surfaces of the typical 1925-S have a decided satiny texture although fully frosty ones also exist. Lustre and color are both very good to excellent on this issue as a rule and most specimens are an appealing light to medium orange gold color, often with greenish gold highlights.
Designer
Augustus Saint Gaudens
Diameter
34.00 millimeters
Metal
90% Gold, 10% Copper
Region
The United States of America
Price Guide
PCGS Population
Auctions - PCGS Graded
Auctions - NGC Graded
Rarity and Survival Estimates

Learn More
65 or Better
833
All Grades
466
60 or Better
9
65 or Better
R-5.3
All Grades
R-6.0
60 or Better
R-9.6
65 or Better
11 / 49 TIE
All Grades
11 / 49 TIE
60 or Better
4 / 49 TIE
65 or Better
11 / 54 TIE
All Grades
11 / 54 TIE
60 or Better
4 / 54 TIE
#1 MS68 PCGS grade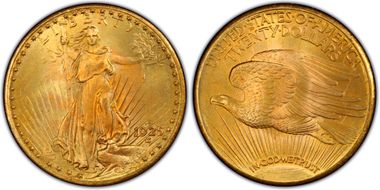 #2 MS67 PCGS grade

Great Lakes Collection - Bowers & Merena 11/1998:4046 - Phillip H. Morse Collection - Heritage 11/2005:6681, $287,500 - Simpson Collection
#3 MS66 PCGS grade

Manfra, Tordella and Brooks - David W. Akers, sold privately in the mid-1980s - Dr. & Mrs. Steven L. Duckor Collection - Heritage 1/2012:4640, $184,000 - D.L. Hansen Collection
#3 MS66 estimated grade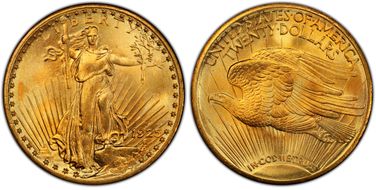 #5 MS65+ PCGS grade

Heritage 1/2006:3620, $172,500 - Kutasi Collection - Heritage 1/2007:3298, $149,500 - Bella Collection (PCGS Set Registry)