1926-S $20 MS64
Certification #60222191,
PCGS #9185
Expert Comments
David Akers (1975/88)
The 1926-S is the most common of all the mintmarked issues from 1924 to 1927, especially so in the highest Mint State grades. I have seen a half dozen or more examples that were distinctly better than MS-65, including two virtually perfect (MS-67 or better) specimens now in well-known private collections. It is an interesting historical footnote to point out that at one time the 1926-S was considered the third rarest collectible Saint-Gaudens double eagle after the 1924-S and 1926-D. It was held in much greater regard than the 1920-S or 1921 and was even considered to be more rare than the 1927-D. However, in the 1950s and 1960s several small hoards of Mint State pieces were discovered in Europe, reducing the issue to its current "Very Scarce" (but not rare) status.
The 1926-S is almost always well struck, and comparatively few examples have the beveled or distinctly rounded rims that are so often seen on the other San Francisco Mint issues of this decade. Die bulging near the rim, making the obverse stars seem raised and connected, is quite common on this issue. Obverse die cracks are also commonplace. Most examples are fully frosty or slightly satiny, and the lustre and color are generally very good to excellent, the typical color being a medium to rich yellow or greenish gold.
Designer
Augustus Saint Gaudens
Diameter
34.00 millimeters
Metal
90% Gold, 10% Copper
Region
The United States of America
Price Guide
PCGS Population
Auctions - PCGS Graded
Auctions - NGC Graded
Rarity and Survival Estimates

Learn More
65 or Better
1758
All Grades
1333
60 or Better
60
65 or Better
R-4.6
All Grades
R-4.8
60 or Better
R-8.4
65 or Better
17 / 49
All Grades
18 / 49
60 or Better
22 / 49 TIE
65 or Better
17 / 54
All Grades
18 / 54
60 or Better
22 / 54 TIE
#1 MS66+ PCGS grade

F.C.C. Boyd Collection - Numismatic Gallery 1/1946:1029, $1,100 - Dr. Charles W. Green Collection - B. Max Mehl 4/1949:881, $1,525 - Amon Carter Collection - Stack's 1/1984:1073 - Dr. and Mrs. Steven L. Duckor Collection - Heritage 1/2012:4643, $92,000 - Puifox Collection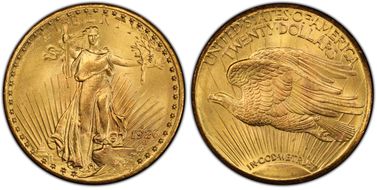 #2 MS66 PCGS grade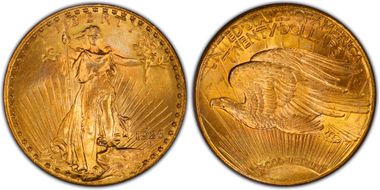 #2 MS66 PCGS grade

Ralph P. Muller Collection - Heritage 1/2010:2330, $69,000
#2 MS66 PCGS grade

Phillip H. Morse Saint-Gaudens Collection - Heritage 11/2005:6689, $86,250 - Simpson Collection
#2 MS66 PCGS grade

Dr. Thaine B. Price Collection - David Akers 5/1998:113, $77,000