1927 $20 MS66
Certification #07796580,
PCGS #9186
Expert Comments
David Akers (1975/88)
The 1927 is the second most common Saint-Gaudens double eagle after the 1924. It is readily available in relatively large quantities in MS-64 or lower Mint State grades and even full gems are readily available at any time. I have seen numerous pieces over the years that have graded better than MS-65, and there are even a few around that could reasonably be termed vitrually perfect.
The 1927 is one of the most attractive issues of the series in terms of lustre, color and overall appearance. The average 1927 generally has more "eye appeal" than the typical 1924, 1925 or 1926 and is matched in this respect only by the 1923-D and 1928. Most examples are very sharply struck with fully frosty or soft satiny surfaces. Many have slightly rounded rims. The lustre and color are usually excellent to outstanding, and the color is most often a rich greenish or yellow gold.
Designer
Augustus Saint Gaudens
Diameter
34.00 millimeters
Metal
90% Gold, 10% Copper
Region
The United States of America
Price Guide
PCGS Population
Auctions - PCGS Graded
Auctions - NGC Graded
Rarity and Survival Estimates

Learn More
65 or Better
850000
All Grades
308333
60 or Better
137500
65 or Better
R-1.2
All Grades
R-1.7
60 or Better
R-1.9
65 or Better
48 / 49
All Grades
47 / 49
60 or Better
48 / 49
65 or Better
52 / 54
All Grades
51 / 54
60 or Better
52 / 54 TIE
#1 MS67+ PCGS grade

Phillip H. Morse Collection - Heritage 11/2005:6692, $18,400 - Dr. & Mrs. Steven L. Duckor Collection - Heritage 5/2012:4644, $25,300
#1 MS67+ PCGS grade

A&A Saints Collection (PCGS Set Registry) - Bella Collection (PCGS Set Registry)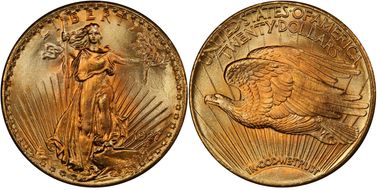 #1 MS67+ PCGS grade

Heritage 1/2016:5694, $23,500 - Fox Collection (PCGS Set Registry)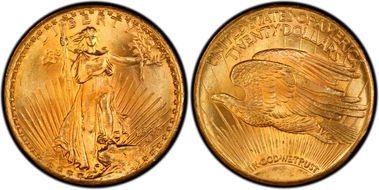 #4 MS67 PCGS grade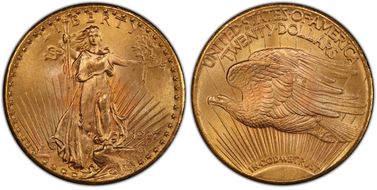 #4 MS67 PCGS grade