1929-D 50C VG8
Certification #26858709,
PCGS #6589
Expert Comments
David Hall
The 1929-D has a relatively low mintage and, along with the 1929-S and 1933-S, it the last Waliking Liberty half dollar (with the exception of the very low mintage 1938-D) that sells for more than it's silver value in the lowest grades. It is somewhat scarce in the higher circulated grades and definitely scarce in mint state. The 1929-D is not quite as rare in mint state and Gem mint state condition as the 1929-S and it is about the same rarity as the 1933-S, perhaps marginally rarer. All three coins are much rarer in mint state and Gem mint state than the dates that follow.
The typical 1929-D can be very frosty or toned in varying degrees. Strike is usually not a problem though sometimes Ms. Liberty's hand can be a little weak.
---
Ron Guth
According to a notice in the June 1934 issue of The Numismatist (p. 416), collectors could still purchase Uncirculated 1929-D Half Dollars directly from the U.S. Treasury for "the face value of the coins and an amount sufficient to cover the mail charrges by first-class mail."
Designer
Adolph Alexander Weinman
Diameter
30.00 millimeters
Metal
90% Silver, 10% Copper
Region
The United States of America
Price Guide
PCGS Population
Auctions - PCGS Graded
Auctions - NGC Graded
Rarity and Survival Estimates

Learn More
65 or Better
50000
All Grades
3000
60 or Better
600
65 or Better
R-2.5
All Grades
R-4.4
60 or Better
R-5.8
65 or Better
10 / 66 TIE
All Grades
23 / 66
60 or Better
25 / 66
65 or Better
10 / 66 TIE
All Grades
23 / 66
60 or Better
25 / 66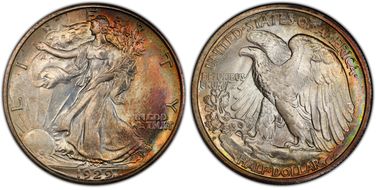 #1 MS67+ PCGS grade

Heritage 4/2018:4263, $44,400 - Legend Rare Coin Auctions 9/2018:146, $82,250
#1 MS67+ PCGS grade
#3 MS67 PCGS grade

Gerald R. Forsythe Collection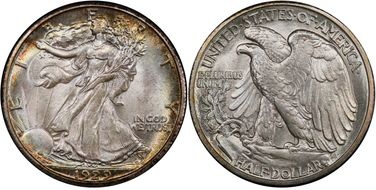 #3 MS67 PCGS grade

Legend Rare Coin Auctions 12/2019:346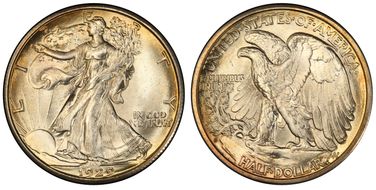 #5 MS66+ PCGS grade

Heritage 4/2014:3590, $10,575 - Heritage 10/2014:4793, $5,288 - Heritage 1/2015:5128, $9,988 - Duckor Family Collection - Heritage 1/2018:4549, $16,800 - D.L. Hansen Collection